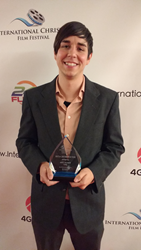 This is a story about encouraging others and seeing people for what is on the inside.
Orlando, Florida (PRWEB) May 11, 2017
Damian X Fulton's latest debut "Painted Horses" could be the next surprise sleeper. Debuting in January 2017, Magnify Entertainment and Silver Lining Pictures' family feature made a good showing at the International Christian Film Festival, with Madelyn Deutch, known for her roles in the 2017 Los Angeles Film Festival opener "The Year of Spectacular Men," "Windsor," "Texas Rising," and "Like a Country Song," winning Best Lead Actress and Kurt Krause of "Hidden Figures" fame grabbing Best Supporting Actor.
Madelyn Deutch just wrapped her work as a series regular on "Outcast" for Cinemax. She is also the star of the indie comedy "The Year of Spectacular Men" featuring Avan Jogia, Nicholas Bruan, Jesse Bedford, Cameron Monaghan, and Brandon T. Jackson, which is currently being submitted to festivals. Maddie also recently starred in the coming-of-age feature "Windsor" and History Channel's Texas miniseries "Texas Rising" opposite the late Bill Paxton, Brendan Fraser, and Jeffrey Dean Morgan. Kurt Krause appeared opposite Kevin Costner in the Oscar-nominated "Hidden Figures" and has a recurring role in the ABC drama series "American Crime."
Ms. Deutch plays Pam Hoog, a struggling history teacher who engages her troublesome students in a bona fide treasure hunt, thus earning her community's ire. Grammy-nominated Country star Deana Carter plays the upbeat Aunt Nora and Linc Hand, best known for his work in "NCIS: Los Angeles" and other television roles, is Pam's convincing admirer. Kurt Krause earned his award as the troubled A.J.
The Dove Association awarded the film a "five-out-of-five" rating. "This is a story about encouraging others and seeing people for what is on the inside," writes reviewer Donna Rolfe. "We are proud to award the Dove Family-Approved Seal for ages 12-plus to this movie."
Produced by Gabrielle Evans Fields, Mark Cramer, and Executive Producer Stephen Bentley, the film also garnered nominations for Best Director, Damian X Fulton, and Best Screenplay, Mark Cramer.
Orlando's Wyndham Resort Hotel hosted the 2017 International Christian Film Festival which culminated in the Awards Ceremony on May 6th. "Painted Horses" is available for streaming and on DVD at PureFlix.com and Amazon.com.