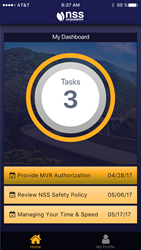 Trevose, PA (PRWEB) April 19, 2017
CEI announced today that it will be previewing a new DriverCare™ mobile application that combines both safety management and accident management services at the NAFA Institute and Expo in CEI's booth, #1011. The conference runs from 4/23 – 4/26 at the Tampa Convention Center in Tampa, Florida.
The DriverCare mobile application is the first to allow fleet drivers to access to both accident management and safety services on the same platform. According to CEI's Brian Kinniry, senior director of strategic services, drivers will have the ability to start a claim at the accident scene with photo-taking capability, view their company policy assigned risk level, and access safety related assigned tasks from the home screen, such as: motor vehicle record release authorizations, company fleet policy assessments, and online training assignments. The application will provide a host of other features to allow the driver complete control of DriverCare™ from their mobile device.
Additionally, manager features will be added into future application releases to allow field managers quick reference to their driver's performance from anywhere. Further pertinent information on the new mobile application will be provided during the preview demonstration at the 2017 NAFA Conference.
"While we will provide a demonstration of some of the first capabilities of our app at our NAFA exhibit," explains Kinniry, "we will be developing and reviewing a specific implementation strategy of the program for each DriverCare customer over the next few months."
About CEI
CEI, a fleet driver management company, is a leading provider of technology-enhanced driver safety, fleet risk management, and vehicle accident services. DriverCare™ Risk Manager, CEI's online safety service, centrally houses all of the tools and information used to create risk levels for drivers and managers. Always evolving the DriverCare product lineup, CEI leverages the latest technologies in ways that save fleet managers and driver's time, while also finding the drivers who need to improve. Using continuous monitoring, telematics, and prescriptive analytics allows CEI to find "hidden" at-risk drivers before they run into problems. CEI consults with clients to help provide solutions that change driver behavior and reduce accidents.
Founded in 1983, CEI has headquarters near Philadelphia, PA, and field sales offices in Trevose, PA; Tulsa, OK; Atlanta, GA; Dallas, TX, and Minneapolis, MN. In 2000, CEI launched its DriverCare™ solution, which includes fleet risk management, MVR ordering and compliance, on-line and behind-the-wheel driver safety training and a safety newsletter. For more information about CEI, please visit http://www.ceinetwork.com
# # #