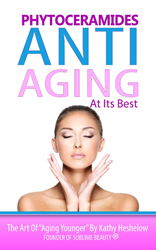 Phytoceramides are an important tool for aging skin. They help not only with beauty but with basic wellness issues, as the book explains. The eBook is complimentary today on Amazon.
St. Petersburg, FL (PRWEB) April 19, 2017
The Kindle ebook "Phytoceramides: Anti Aging at its Best" is free today on Amazon.
"We are all in search of natural ways to improve our skin as we age, to have healthy support," says Amazon Best Selling Author Kathy Heshelow. "Phytoceramides is one of those important tools. I wrote the book to help inform about this wonderful product."
The Japanese have been using phytoceramides actively for more than 12 years
Ceramides make up 40% of skin, keeping skin plump, holding in moisture and playing an important role in the protective barrier of protection.
Ceramides start to diminish with age (like collagen and other elements), making skin dryer, thinner and less protected.
Phytoceramides help bring levels back up from the deepest levels of skin. Heshelow discusses these supplements, the different types and how to use them in the book.
The product is not just for beauty. There are Interesting studies on dermatitis using phytoceramides for relief. In an important study published in 2002 confirmed that increased colonization of Staphylococcus aureus is correlated to the reduction of ceramides. Read about this and other fascinating studies in the short book.
Phytoceramides are available on the Sublime Beauty store and on Amazon as well.
ABOUT: Sublime Beauty® is a French-inspired quality skincare company that focuses on products to Age Well. Ingredients help to boost collagen, hydrate, relax wrinkles and improve skin. A niche includes healthy Skin Brushes. The company webstore offers free standard shipping and a VIP Club. Sign up for Secret Sales on the site. Products also available on Amazon. The founder, Kathy Heshelow, also writes on wellness and beauty subjects.