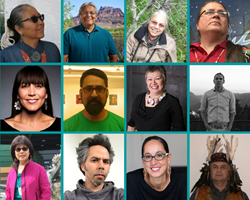 VANCOUVER, Wash. (PRWEB) April 19, 2017
The Native Arts and Cultures Foundation (NACF) has awarded its first Mentor Artist Fellowship to 12 artists in three regions of the United States: the Pacific Northwest, Southwest and Upper Midwest. The awardees reside in Alaska, Arizona, Minnesota, New Mexico, Oregon, Washington and Wisconsin. Beginning in July, each artist will mentor an emerging American Indian or Alaska Native artist apprentice for one year.
The 2017 awardees were selected from an open call for applications that was issued last October to American Indian and Alaska Native artists. Applications were reviewed from more than 100 submissions by a panel of art peers and professionals. In accordance with the Fellowship guidelines, the awardees are accomplished Native artists of 10 years or more in Traditional Arts or Contemporary Visual Arts. They have resided in their respective states for at least five years and are enrolled in an American Indian tribe or Alaska Native corporation.
"The goal of the Mentor Fellowship is to improve creative development, artistic rigor, and perpetuate intergenerational cultural and traditional knowledge," says NACF Director of Programs Francene Blythe, Diné/Sisseton-Wahpeton/Eastern Band Cherokee. "This Fellowship will foster the continued growth of Native artist mentors and apprentices and empower them to play an integral role in their communities."
The NACF Mentor Fellowship includes training and requires a joint mentor/apprentice art project at the completion of the one-year Fellowship period. The Fellowship includes a monetary award of $30,000 per artist for a total of $360,000 awarded in fellowships.
2017 Mentor Fellows:
Contemporary Visual Arts

Nicholas Galanin, Tlingit/Unangax̂, multi-disciplinary, Alaska
Jackson Polys, Tlingit, carving, Alaska
Cara Romero, Chemehuevi, photography, New Mexico
Dyani White Hawk, Sicangu Lakota, mixed media, Minnesota
Traditional Arts

Lani Hotch, Chilkat Indian Village, weaving, Alaska
Royce Manuel, Auk-Mierl Aw-Thum, fiber art, Arizona
Delbert "Smutcoom" Miller, Skokomish, carving, Washington
TahNibaa Naataanii, Diné (Navajo), weaving, New Mexico
Wayne "Minogiizhig" Valliere, Lac du Flambeau Lake Superior Band of Chippewa Indians, birch bark canoe making, Wisconsin
Delina White, Minnesota Chippewa Tribe, Leech Lake Band of Ojibwe, regalia/apparel, accessory making, Minnesota
Laura Wong-Whitebear, Colville/Sinixt, basket weaving, Washington
Shirod Younker, Coquille/Coos, multi-disciplinary, Oregon
The Mentor Fellowship Program is generously supported by individual donors and regional funders committed to preserving and perpetuating Native arts and cultures. NACF is piloting the program in 2017. NACF is grateful to Margaret A. Cargill Philanthropies and to the James F. and Marion L. Miller Foundation for supporting an Oregon mentor fellow.
The Native Arts and Cultures Foundation's mission is to promote the revitalization, appreciation and perpetuation of American Indian, Alaska Native and Native Hawaiian arts and cultures through grant making, convening and advocacy. To date, NACF has supported a total of 251 awards for Native artists, organizations, and advocacy efforts in more than 30 states and the District of Columbia. To learn more about the National Artist Fellows and NACF's work—nurturing the passion and power of creative expression, visit: http://www.nativeartsandcultures.org.
# # # #