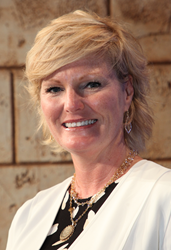 Dallas, TX (PRWEB) April 20, 2017
The Professional Retail Store Maintenance Association, (PRSM), the authority on retail, multi-site facilities management, announced today that Jon Dawkins, RFMP, Retail Facilities Administrator, REI, received the 2017 Retailer of the Year Award and Lisa Varga, CEO, Phoenix Energy Technologies was named the 2017 Supplier of the Year. The awards were presented today during PRSM2017 National Conference in Dallas, TX.
PRSM's Retailer of the Year Award recognizes performance excellence by a retail facilities maintenance professional.
Dawkins launched his REI career 45 years ago working in the first REI store in Seattle. Based upon his contributions to the company's success he has also received the REI "Anderson Award" the highest award presented to REI employees. He has been responsible for developing a highly respected facilities department at REI that has contributed to the company's overall success. Dawkins also served as a subject matter expert in the development of the PRSM's first RFMP exam.
"Dawkins has earned the Retailer of the Year Award as he has a distinguished career defined by his professional abilities and his willingness to collaborate and share his expertise with others," said Jonathan Bauer, 2017-18 Chair, PRSM Association 2017-18 Board of Directors and Sr. Director Store Development, Gap Inc.
PRSM's Supplier of the Year Award is presented annually and honors performance excellence by a supplier to the retail facilities maintenance industry.
Varga is a strategic leader in retail facilities management. Her company provides a technology-based solution for retailers to monitor, analyze and manage energy usage to boost overall efficiencies across their enterprise. She has served on the PRSM Board of Directors and was key in the development of the Governance model. She started PRSM's sustainability programs, developing conference workshops and helping others collaborate with energy experts and learn more about sustainability initiatives. She is a recognized role model for women in the industry and serves as a mentor to many developing FMs.
"Lisa is an exceptional supplier, who leads by example," said Bauer. "She is passionate about this business and constantly seeks ways she can help others, to improve the industry as well as grow themselves."
The annual PRSM Association awards also include Volunteer of the Year, Service Excellence Award and the Innovation in Sustainability Award. For more information, visit PRSM2017 National Conference.
###
About the Professional Retail Store Maintenance® Association (PRSM)
PRSM Association, the authority on Retail and Multi-site Facilities Management, is the leading membership organization for retail facilities and supplier professionals. PRSM empowers the Retail Industry facilities management with best practices, benchmarking, education, discussion forums and trusted partnerships. Chartered in 1995, and with almost 1,000 member companies, the PRSM community values are founded on a spirit of innovation, resourcefulness, the quest for knowledge and ethical business relationships. Members depend on PRSM to help them achieve greater success and a competitive advantage through quality programs and resources.
Visit prsm.com for more information.