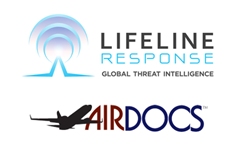 LifeLine Response has the most comprehensive database of medical facilities in the world. Gregory Pinnell, MD, President AirDocs
Detroit/Saginaw, MI (PRWEB) April 20, 2017
The strategic partnership underwent extensive diligence, which resulted in a unified synergy to transform situational awareness and medical response capabilities worldwide. By partnering with LifeLine Response, AirDocs provides instant consultation with physicians to evaluate urgent medical problems and give direction to medical care on the ground or in the air. AirDocs is a global solution and the physician network combined with the patented technological innovations of LifeLine Response is transforming how businesses evaluate their responsibilities under Duty of Care for all workers, not just the executive team. "We are extremely proud to partner and integrate with AirDocs to deliver these crucial lifesaving services to our enterprise customers. The integration is a global, on-demand medical service so it was imperative that we recruited the brightest, most experienced medical team and partner, we did just that. Dr. Pinnell and core members of his team, are U.S Military trained and have worked under high duress within life saving and mission critical environments. This partnership will result in the most comprehensive medical response service in the world." Peter Cahill, CEO LifeLine Response.
AirDocs is a 24/7 resource of physicians of multiple specialties ready to assist whether you are in the air or on the ground. When your life is in danger, every second counts and that is certainly true for medical situations. Now customers have the medical safety and threat security they want, need and deserve. "Our strategic partnership with LifeLine Response is a perfect blend of capabilities to support clients in any type of emergency both in the air and now, on the ground.  LifeLine Response has the most comprehensive database of medical facilities in the world and their geospatial capabilities demonstrate with precision; the matching of the right hospital/medical clinics with our patients, so we may support medical attention anywhere, anytime." Gregory Pinnell, MD, President AirDocs. Dr. Pinnell is founder and flight surgeon for AirDocs and has an extensive background as a U.S. Air Force Reserve Flight Surgeon with the current rank of Colonel. Dr. Pinnell serves with the 1st Special Operations Wing Medical Group. He was a rescue flight surgeon for the US Space Shuttle Program and continues working with Department of Defense Human Spaceflight Support.
Click Here to Request More Information or Demo
About LifeLine Response
LifeLine Response is the premier mobile safety solution that utilizes comprehensive global imagery, communication tools and proprietary Artificial Intelligence (AI) algorithms to provide alerts and innovative operational safety and security oversight management to businesses operating worldwide. Several government agencies, large universities and Fortune 500 companies currently use the product. To learn more, please visit http://www.llresponse.com.
About AirDocs
AirDocs Aeromedical Services provides immediate access to urgent and emergent medical consultation. Direct contact is available with specialist physicians 24/7.