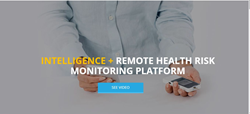 As per American Health Policy Institute (AHPI) research just 2.4 million privately insured high risk beneficiaries accounted for $288 billion healthcare costs in 2015. Real time health risk monitoring is the key for reducing preventable healthcare costs.
Houston, TX (PRWEB) April 20, 2017
Witty Health Inc., a technology company based in Houston, Texas announces the launch of a device and video-enabled, real-time, Remote Health Risk Monitoring Platform. The platform is designed to help employers and payers to: (1) identify their high-risk employees and members (2) have their high-risk employees' and members' biometrics monitored by their physicians and (3) lower preventable healthcare costs with a demonstrable return on investment.
Witty Health Inc. was established with the aim of finding new models to combat chronic care diseases through an intelligent, remote health risk monitoring technology. The company is developing a suite of intelligent tools over this platform to help personalize health risk management. The company uses the InstaMD platform which comprises of: a telemedicine-based remote clinic, home health monitoring, patient diagnosis, and messaging application modules. In the bid to achieve this aim, Witty Health Inc. has assembled an experienced management team and secured significant investment from a number of outstanding physician leaders.
Today, the company has launched to the health care industry: a HIPPA-compliant remote monitoring health risk management platform designed for payers, small and large businesses and Accountable Care Organizations. The platform is connected with eight devices: a wireless weighting scale, blood pressure cuff, pulse oximeter, stethoscope, thermometer, multi-scope camera, ECG and blood glucose monitor. These tools create data which can be remotely uploaded while the patient is video conferencing with the physician - in real-time or offline, from home or office.
"The current healthcare model that focuses on treating just the symptoms of chronic conditions by pay-per-procedure basis, is not working. Our new path is for value-based models where health risks are monitored in real-time to prevent both the onset and progression of chronic conditions. Through an engaging partnership with insurers, employers and physicians, we believe our product can significantly improve clinical outcomes and reduce preventable healthcare costs," stated Ram Sesha, the co-founder of Witty Health.
For further information about Witty Health and its remote monitoring incentivized health risk management platform visit http://www.wittyhealth.com
About Witty Health
Witty Health, Inc. (http://www.wittyhealth.com) is a Houston, TX-based technology company focusing on intelligence-powered, real-time health risk monitoring for clinical prevention. Witty Health, owned by employees and outstanding physician leaders, also expects to launch a patient engagement product for the pharmaceutical industry soon.