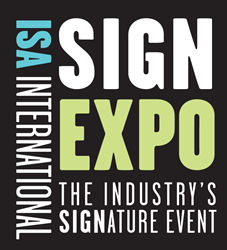 "The energy and excitement is electrifying. The 2017 event should position us well to grow even larger next year." Lori Anderson, ISA president and CEO
Las Vegas, NV (PRWEB) April 19, 2017
ISA International Sign Expo 2017 is underway in Las Vegas, with education and meetings before the trade show floor opens its doors on Thursday. All indicators point to one of the strongest shows in years:

The trade show floor sold out months ago; a waiting list for exhibit space included dozens of companies.
Registrations have outpaced last year's strong event, which was the best in a decade.
Education registration is the strongest since ISA began tracking attendance at these sessions.
Sponsorships and in-kind product donations were the highest ever.
The co-located National Sign Research and Education Conference (NSREC), hosted by the Sign Research Foundation, was a sell-out.
"The energy and excitement is electrifying the halls at the Mandalay Bay Convention Center," said Lori Anderson, ISA president and CEO. "We can't wait to cut the ribbon on Thursday and open the trade show floor doors to thousands of attendees looking to explore the latest products and make deals."
Because of the success of the most recent ISA International Sign Expo events, ISA will expand the trade show floor in 2018 when the event returns to Orlando.
"So many exhibitors want to be part of this exciting event and others want to increase the size of their booths so they can showcase more products," Anderson said. "The 2017 event should position us well to grow even larger next year."
ISA International Sign Expo takes place through Saturday at the Mandalay Bay Convention Center in Las Vegas. Learn more at http://www.signexpo.org.
About ISA
The International Sign Association (ISA) represents manufacturers, suppliers, and users of on-premise signs and sign products from the United States and 60 countries around the world. ISA and its Affiliated Associations work to support, promote, and improve the worldwide sign and graphics industry, which employs more than 200,000 American workers and has an economic impact of $37.5 billion.
About ISA International Sign Expo
ISA International Sign Expo is the on-premise sign and graphics industry's largest expo. Held each spring, the event features the latest products that showcase the breadth of the industry along with education and networking events. The event has been named to the Trade Show News Network's List of Top 250 Trade Shows and ranked in the Top 100 Largest Events by Trade Show Executive three consecutive years. Learn more at http://www.signexpo.org.