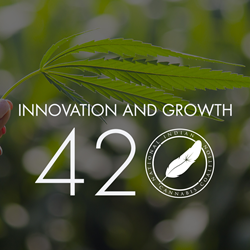 We are seeing positive momentum in the emerging regulated cannabis industry in both the United States and the world
Washington, D.C. (PRWEB) April 20, 2017
Jeff Doctor, Executive Director of the National Indian Cannabis Coalition (NICC), speaks on the official rollout of NICC's nationwide efforts: "Despite concerns about potential changes in federal policy, we are seeing positive momentum in the emerging regulated cannabis industry in both the United States and around the world. On 4/20/2017, we are excited to be the tribal voice advocating for responsible legalization across the country."
All but ten states have laws allowing either hemp production, medical or recreational use of cannabis and Colorado recently crossed $1 billion in annual marijuana sales. The California recreational market continues to build—Forbes recently predicted that Los Angeles will become the marijuana capital of the country. In April 2017, Canadian Prime Minister Justin Trudeau released legislation that is expected to make Canada the first industrialized nation to completely legalize cannabis.
"Innovation is happening everywhere," said Doctor, "NICC's advocacy focuses on ensuring that Tribes have the same right as other U.S. citizens - to have the equal access to medicine and financial benefit from canna-agriculture operations. NICC focuses on ways that the cannabis-related industries nationwide can seek advantages offered by a tribal partnership in the emerging regulated cannabis market," Doctor says, "Indigenous people are uniquely positioned to explore growth and cultivation both in the United States and around the globe."
Interested parties and tribes are encouraged to join NICC as they continue to advance their mission. Established in 2015, the mission of NICC is to provide education and guidance in collaboration with tribal leaders, industry professionals and elected officials relative to the emerging regulated cannabis industry, while advocating for parity on behalf of Indian Country.
Membership information can be found at http://www.niccunited.org