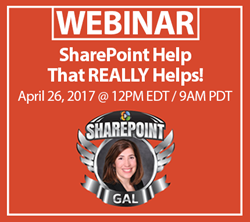 (PRWEB) April 20, 2017
VisualSP continues its mission to provide SharePoint developers, administrators, business teams, and other stakeholders with ways to improve learning and boost adoption as it hosts a live event featuring a peer-to-peer presentation from SharePoint senior developer Pam DeGraffenreid of Caraustar.
The online class will include a detailed explanation on setting up contextual help within SharePoint Site Collections. DeGraffenreid will share her experience in customizing in-context videos, images, external resources, and more. "I'm excited for the opportunity to help other SharePoint developers take advantage of help tools that are available within SharePoint," she said.
While the focus of the event will be on discussing the tools available in the SharePoint ecosystem, the primary theme will be around the benefits of contextual help.
VisualSP founder and CEO Asif Rehmani explained that learning tasks is more meaningful and effective when users learn as they work, without leaving the workspace. "We have built our Help System for SharePoint on the principle that users will adopt the platform faster and more sustainably if they have support and training in the user interface," he said.
"We felt it was important to share real experiences with our SharePoint community," added VisualSP Chief Revenue Officer Mark McDermott, "So we're collaborating with professionals responsible for SharePoint implementations in an effort to provide peer-to-peer support."
DeGraffenreid will introduce help functionality that isn't widely known, while Rehmani will help answer questions and discuss the benefits of in-context help and user support.
Interested parties can reserve a place for the live event by visiting the registration page.
Class Name: SharePoint Help That REALLY Helps!
Date: April 26, 2017
Time: 12:00 – 1:15pm EST
*****
VisualSP® has been a leader in e-learning/performance support integration with SharePoint since 2004. The company introduced its on-demand, inline Help System for SharePoint to assist end users in developing mastery over common SharePoint tasks. In 2016, VisualSP expanded its technology solutions to online Microsoft products. The company is led by Microsoft MVP and MCT Asif Rehmani. To learn more, visit http://www.visualsp.com.