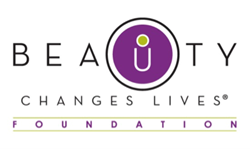 San Diego, CA (PRWEB) April 21, 2017
Ten hairstylists are taking their careers to the next level through a Vidal Sassoon Professional Beauty Education Advanced Scholarship. Imagined and generously funded by Wella's Hairdresser's at Heart program, the scholarship includes a five-day learning experience at a Vidal Sassoon Academy in North America. Introduced in 2013 as the Beauty Changes Lives Foundation's first scholarship for licensed hairstylists, the Vidal Sassoon Professional Beauty Education Advanced Scholarship has helped 90 licensed hairstylists improve their craft and enhance their confidence. Each scholarship experience is valued at $4,850, including travel.
Applicants in the Spring 2017 competition submitted videos expressing their passion for the beauty industry, sharing what inspires them, and describing how the gift of continuing education will help them change lives. Applicants' videos may be viewed here. The Beauty Changes Lives Foundation and Wella's Hairdressers at Heart are honored to announce the Spring 2017 Vidal Sassoon Professional Beauty Education Advanced Scholarship Competition winners.
Jacklin Blandin (Rockport, TX)
"You have to be willing to fail to succeed," is a motto Jacklin credits with helping her take risks that have advanced her career. She also believes in the power of hairstylists to channel passion into the life-changing gift of confidence. "You have to trust the ability of your craft to change lives," she says. "Then you have to study, perfect your skills and vow to keep getting better every day."
Carrie Galyean (North Richland Hills, TX), Elixir Salon and Daymaker
A licensed pharmacist for 15 years, Carrie did not renew her license when it came up for renewal because she had found her passion after enrolling in beauty school. She is inspired by combining the technical skills of beauty with an artistic eye that allows a client's inner beauty to show through. And as much as her previous career in pharmacy was about helping people feel better, Carrie says her grandmother modeled beauty's ability to truly change how people feel, commenting, "As a makeup consultant, she helped clients look good, but feel beautiful."
Denise Gascon (Austin, TX), Denise Lydia Hair at Blue Lions Salon Studios
"When the haircut is just right, the eyes light up too," says Denise. She loves seeing the light in a client's eyes after a haircut or color. Her video application showed her passion and talent for creating subtly blended color effects. Not one to rest on her laurels, Denise says, "I want to give my client more options by getting advanced education through Wella."
Whitney Hunt (Bridgewater, NJ), Somerset County Technology Institute
As an assistant at Oscar Blondi Salon for seven years, Whitney is ready to take the next step in her career as a hairstylist behind the chair. Recognizing Vidal Sassoon's skill in creating a style that brought out an individual's unique beauty, Whitney says she is excited about "giving each client a haircut that complements his or her face shape and personality."
Lindsey Logsdon (Belle Plaine, KS), Fringe Salon
Lindsey graduated cosmetology school just a year ago and started her career as a booth renter. She believes education is about "what's in your head but also in your heart." She watches videos and webinars to continually learn, but notes that often the best learning arises organically as hairdressers learn from other hairdressers. Remarking on the responsibility she feels to bring out each client's confidence, Lindsey says, "It's up to you to be a hero in someone's life."
Kimberly Long (Goshen, IN), Fringe Salon
Kimberly was studying art when a woman handed her a card and said she'd be really good at hairstyling. She loves how art aligns with the "touch" element of hairstyling. "I can give a client a hug and help them feel better and a haircut that helps them look better," she said. Kimberly is especially honored to receive a Vidal Sassoon award. Not only has she long admired his contributions to the industry, but she had the privilege of seeing Sassoon shortly before his passing in 2012.
Danyell Pollard (Pittsburg, KS) WAX: Beauty and Bar
A champion for small town America, Danyell also holds a bachelor's degree in chemistry. Danyell is passionate about bringing "big city" education to small town salons. "I want to bring innovative voices back to small communities," says Danyell, noting that professionals working in small towns are inspired by the same things that inspire fashion and beauty throughout the industry." Her salon frequently partners with a local university to introduce cutting edge fashion and beauty to the local community.
Chelsie Rodden, (Cumming, GA), Paul Mitchell the School
Chelsie is passionate about curly hair and helping every bride feel like a queen on her wedding day. She dreams of eventually opening a bridal beauty team service in Atlanta, Ga. "I want to make a mark on this industry and the only way to do that is to stay passionate. And the only way to stay passionate is keep learning," says Chelsie.
Michael Stewart (San Diego, CA) Bellus Academy
Michael's passion for education comes shining through in the enthusiasm of his students who view him as a role model who never settles for the status quo. In 2015, Michael was among an elite group of hairstylists awarded a Leo Passage scholarship. "As an educator, I'm challenged to help students learn not just what they want to learn, but help them understand the importance of learning what they don't think they need to know," says Michael. He adds that by applying for scholarships, beauty professionals can push themselves to try harder and expand their creative and technical boundaries.
Gabie Vossler (Honoulu, HI) Ho'ala Salon and Spa
Gabie says that hairstylists share a responsibility to keep their guests advised of trends in fashion and beauty. "Clients need to know that their hairstylist is up to date on new looks, and professional education is a great way to stay at the forefront of new trends," notes Gabie. She's looking forward to learning from other passionate professionals when she visits a Sassoon Academy.
"From serving as an advocate for small town beauty to channeling the courage to move from assistant to hairstylist, the 2017 Vidal Sassoon Professional Beauty Education winners reflect diverse NextGen voices from across the nation," says Lynelle Lynch, President of the Beauty Changes Lives Foundation. "The applicants' stories reflect the diversity, creativity and passion that distinguish beauty from all other career callings."
"A commitment to education is something Wella's Hairdressers at Heart has always been synonymous with," said Sal Mauceri, Coty Senior Vice President North America Professional Beauty and Global OPI. "We're thrilled to offer these talented hairstylists the unique opportunity to attend the Vidal Sassoon Academy, and remain steadfast in honoring Vidal's legacy through this namesake scholarship."
Scholarship winners are selected by a panel of award-winning hairstylists, platform artists and educators. Applications are evaluated in three core areas: creativity/innovation, communication and creativity. While professionalism and technical details are important in scoring, judges focus on each applicant's passion for the industry and vision for how their career in beauty will change lives.
###
About the Beauty Changes Lives Foundation: With a mission to elevate, educate and empower, Beauty Changes Lives is uniting the industry and building awareness of the extraordinary career opportunities in the beauty, wellness and massage therapy industries. Learn more at http://www.beautychangeslives.org or find us on Facebook.
About Hairdressers At Heart: Stylists are committed to being the best, perfecting their craft with every cut. Wella is here to advance the salon industry, one stylist at a time. Hairdressers At Heart is a program created to help stylists develop their talents throughout their career. Our goal is to be a vital partner to salons, empowering individual stylists and our entire industry. For more information: http://www.hairdressersatheart.com/
About Coty Inc.: Coty is one of the world's largest beauty companies with approximately $9 billion in revenue, with a purpose to celebrate and liberate the diversity of consumers' beauty. Its strong entrepreneurial heritage has created an iconic portfolio of leading beauty brands. Coty is the global leader in fragrance, a strong number two in professional salon hair color & styling, and number three in color cosmetics. Coty operates three divisions – Coty Consumer Beauty, which is focused on color cosmetics, retail hair coloring and styling products, body care and mass fragrances sold primarily in the mass retail channels with brands such as COVERGIRL, Max Factor and Rimmel; Coty Luxury, which is focused on prestige fragrances and skincare with brands such as Calvin Klein, Marc Jacobs, Hugo Boss, Gucci and philosophy; and Coty Professional Beauty, which is focused on servicing salon owners and professionals in both hair and nail, with brands such as Wella Professionals, Sebastian Professional, OPI and ghd. Coty has approximately 20,000 colleagues globally and its products are sold in over 130 countries. Coty and its brands are committed to a range of social causes as well as seeking to minimize its impact on the environment.
For additional information about Coty Inc., please visit http://www.coty.com/.
About Sassoon Academy: Sassoon Academy offers its celebrated, industry-leading philosophy and courses worldwide through its renowned Academies, and instructional DVDs and books. All classes are developed and designed to be contemporary, relevant and forward thinking and are delivered with passion, commitment and technical excellence. The aim is to share the knowledge that is gained in the development of our craft and ensure that our students gain real commercial skills from our courses, as well as take away a piece of the culture that created Sassoon. To learn more about Sassoon Academy, visit http://www.sassoon.com or follow us on Facebook: facebook.com/SassoonAcademy, Twitter: twitter.com/SassoonAcademy and Instagram: @sassoonacademyofficial