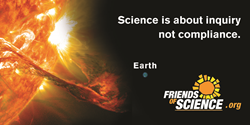 Science is not a democracy, it's about evidence. If we agree that a diversity of people and science disciplines is a good thing for science, how can the conversation on climate change be dogmatically focused only on human activity and carbon dioxide
Calgary, Alberta, Canada (PRWEB) April 20, 2017
Friends of Science Society says the Science March planned for Earth Day as reported in the New York Times of April 17, 2017 has a focus on diversity, making it an excellent opportunity to expose climate change dogma and explore the scientific research on the solar effects on climate, such as found in this compendium of peer-reviewed papers.
"Science is not a democracy, it's about evidence. If we agree that a diversity of people and science disciplines is a good thing for science, how can the conversation on climate change be dogmatically focused only on human activity and carbon dioxide," says Michelle Stirling, Communications Manager for Friends of Science Society. "Obviously, the sun and oceans and various internal factors on earth play a huge role. Let's talk."
Stirling notes that the alleged 'consensus' claims began with a non-peer-reviewed, short article by Naomi Oreskes in AAAS Science Magazine, Dec. 3, 2004, entitled "The Scientific Consensus on Climate Change."
As Roger Pielke, Jr. proposed in his rebuttal commentary to Oreskes published in Science Magazine May 13, 2005 entitled "Consensus about climate change?" policies "should be robust enough to accommodate the distribution of perspectives ..thus providing a buffer against the possibility that we might learn more in the future "
"Consensus" studies have proliferated ever since, often using 'statisticulation' or oddly phrased definitions of climate change to reach their 97% claim. Cook et al 2013 is one of the more cited. Legates et al (2013) published in "Science and Education," entitled: "Climate Consensus and 'Misinformation': A Rejoinder to Agnotology, Scientific Consensus, and the Teaching and Learning of Climate Change" shows that in Cook's study just 0.3% of scientists hold the alleged 'consensus' view.
Friends of Science Society's deconstruction of four major studies, entitled "97%Consensus? NO! Global Warming Math Myths and Social Proofs" was published online Feb. 2, 2014. More recently on March 17, 2017, their findings were presented at the FreedomTalk conference in Calgary.
On Sept. 28, 2005, Pielke, Jr. also pointed out the confusion and potential negative consequences over the two different definitions of climate change by the UNFCCC and the IPCC in an insightful paper published in Environmental Science and Policy entitled: "Misdefining ''climate change'': consequences for science and action."
According to a report in the Daily Camera of Oct. 26, 2016, Pielke, Jr. was drummed out of public commentary as a so-called "denier" by climate catastrophe dogma supporters, reportedly financed by green billionaire Thomas Steyer, as revealed by Wikileaks.
Friends of Science Society reminds the public of its upcoming science and policy event in Calgary, Alberta - "Climate Dogma Exposed" which will feature Ottawa energy policy consultant Robert Lyman - "Can Canada survive climate change policy?" and US author and speaker Steve Goreham myth-busting on climate science and renewable energy. Goreham's new book "Outside the Green Box: Rethinking Sustainable Development" will be released that week. Event information: http://www.friendsofscience.org
About
Friends of Science has spent over fourteen years reviewing a broad spectrum of literature on climate change and have concluded the sun is the main driver of climate change, not carbon dioxide (CO2). Friends of Science is made up of a growing group of earth, atmospheric and solar scientists, engineers, and citizens.
Friends of Science Society
P.O. Box 23167, Mission P.O.
Calgary, Alberta
Canada T2S 3B1
Toll-free Telephone: 1-888-789-9597
Web: friendsofscience.org
E-mail: contact(at)friendsofscience(dot)org
Web: climatechange101.ca