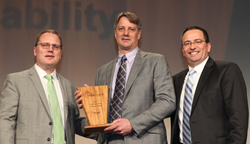 Dallas, TX (PRWEB) April 20, 2017
The Professional Retail Store Maintenance Association, (PRSM), the authority on retail, multi-site facilities management, announced today that undefined [Target __title__ ] and undefined [Wegmans Food Markets __title__ ] are the 2017 recipients of the PRSM Innovation in Sustainability Award. The award recognizes PRSM retail member companies with outstanding sustainability programs that deliver exceptional results and was presented during the PRSM2017 National Conference.
"PRSM has numerous retail members who are dedicated to sustainability. However, Target and Wegmans have gone above and beyond to incorporate leading-edge technologies, establish sustainability cultures inside their organizations, and reduce their total carbon footprint. We are proud to present them with the 2017 Innovation in Sustainability Award," state Bill Yanek, PRSM CEO. Target and Wegmans received the awards today during the PRSM2017 National Conference in Dallas, TX.
Target Corporation, a national leader in sustainability, encourages both their team and guests to lead more sustainable lifestyles. Highlights of Target's sustainability efforts include:

147.5 megawatts of installed solar power, more than any other U.S. company
1.3 billion pounds of retail waste diverted from landfills
61 million pounds of food donated – enough to provide 51 million meals in Target communities
40 megawatts of renewable wind power – enough to power 60 stores
Wegmans Food Markets, Wegmans Food Markets, a privately held, nationally recognized leader is one of the "Top 100 Companies to Work For," an impressive twenty consecutive years by Fortune Magazine. Focused on reducing emissions, waste and providing sustainable product and packaging choices. Highlights of Wegmans sustainability success in 2016 include:
14.5 million pounds of food donated to food banks
4 million pounds of plastic bags recycled
32.6 million pounds of food waste recycled
123 million pounds of cardboard and paper recycled
An industry leader in sustainability, Wegmans has made significant progress towards a zero-waste store, having reduced waste by 80 percent in a test store, with plans to roll out the waste reduction program to nine additional stores this year. The new goal for the pilot store will be to reduce waste by 90 percent in 2017.
PHOTO CAPTION - (L-R) Bill Yanek CEO PRSM, John Andersen - Target Corporation, Jonathan Bauer, PRSM Board Chair
PHOTO CAPTION - (L-R) Bill Yanek, CEO PRSM, Richard Sortino and John Abiuso - Wegmans Food Markets , Jonathan Bauer - PRSM Board Chair
###
About the Professional Retail Store Maintenance® Association (PRSM)
PRSM Association, the authority on Retail and Multi-site Facilities Management, is the leading membership organization for retail facilities and vendor professionals. PRSM empowers the Retail Industry facilities management with best practices, benchmarking, education, discussion forums, and trusted partnerships. Chartered in 1995, and with more than 950 member companies, the PRSM community values are founded on a spirit of innovation, resourcefulness, the quest for knowledge and ethical business relationships. Members depend on PRSM to help them achieve greater success and a competitive advantage through quality programs and resources.