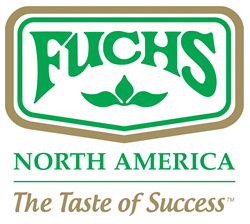 The African Exploration Collection delivers on authenticity, but is also highly versatile. Each of the seasonings in this collection has multiple applications.
Baltimore, MD (PRWEB) April 20, 2017
Fuchs North America, a leading maker of seasonings, flavor systems and taste solutions for the food manufacturing, retail and foodservice industries, introduces the African Exploration Collection – a new line of distinctive seasonings, bases and flavors. The collection's 4 delicious and on-trend seasonings are highly versatile, with multiple applications for each.
Among the collection's offerings are seasonings and blends for proteins, sauces, snacks and seafood. These items are also the starting point for food manufacturers and foodservice establishments to develop their own unique signature product offerings, with Fuchs' culinary specialists at their side.
The New Collection
Our new African Exploration Collection includes the following 4 seasoning blends:

Berbere BBQ Seasoning
Maghreb Style Boharat Seasoning
Mozambique Style Piri Piri Sauce Base
Senegalese Style Tamarind & Coconut Snack Seasoning
In introducing the collection, Shannon Cushen, Fuchs' director of marketing, explained the strategy behind the collection. "As people have been becoming more adventurous eaters, there's been an increase in demand for authentic ethnic cuisines and flavors inspired by different regions of the world. As a result, African cuisine and African inspired flavors have been gaining traction both in foodservice and at retail," she observes.
"Our newest collection delivers on authenticity, but is also highly versatile. Each of the seasonings in this collection has multiple applications," Cushen adds.
Fuchs helps food companies make sense of the trends and tap into where the culinary energy is strongest. In this spirit, each of the items that make up Fuchs' African Exploration Collection features delicious and on-trend flavors that will liven up any meal or product.
Super Sauce Base
Elizabeth Lindemer, CEC, Fuchs' corporate executive chef, worked to develop blends that meet consumers' high expectations of authenticity. "Our Mozambique Style Piri Piri Sauce Base features the piri piri pepper, which has been growing in Africa for hundreds of years. Although Piri Piri dishes may vary from region to region, it always delivers its characteristic fiery yet addictive heat," Lindemer describes. Not only does this seasoning make for an excellent sauce for shrimp, but it also works well on other seafood items and proteins, like chicken.
Sensational Snack Seasoning
Our Senegalese Style Tamarind & Coconut Snack Seasoning will be your new "go to" seasoning for snacks. According to Lindemer, "We've combined Tamarind, a common ingredient in Senegalese cuisine, with coconut for an exciting profile that works wonderfully on snacks, such as chips and nuts, but also can pair with chicken or fish."
Fearless Flavors for Proteins
Not only is our Berbere BBQ Seasoning particularly on trend, but it's also incredibly versatile. "We noticed how well the Berbere blend complemented the flavors found in traditional BBQ. You'll want to put this blend on everything from flank steak to popcorn and chips," Lindemer suggests.
Northwestern Africa serves as inspiration for our Maghreb Style Boharat Seasoning. According to Lindemer, "You can taste the flavors of both the African and Arabic worlds in this blend, which features warm and savory spices and black pepper. This makes it the perfect seasoning for proteins, like chicken and lamb, as well as grains and vegetables."
Custom Solutions, Too
According to Ken Wuestenfeld, vice president of sales and technical services, the strategy behind all of Fuchs' offerings like the African Exploration Collection is to help food manufacturers and foodservice establishments create irresistible new items that build on culinary traditions, but that are also unique.
As Wuestenfeld explained, the development process is a combination of science and art. "We stay on top of consumer taste trends. Our goal is to help food companies develop new taste sensations that they can call their own – offerings that are unique and stand out."
With each customer, Fuchs North America goes from conception to manufacturing to delivery of an approved flavor as quickly as possible. "We have a wide range of flavor bases at the ready, and, as a result, we can provide samples for immediate testing. Then we customize and refine the flavor to attain exactly the taste characteristics our customer is seeking," Wuestenfeld reports.
Doing so means that taking a food or flavor idea from concept to delivery can often be accomplished in a matter of weeks or even less time. "Especially when under tight product development timeframes, being able to support customers with that kind of rapid schedule is a huge benefit," Wuestenfeld emphasized.
Complimentary Samples Available
For a limited time, Fuchs North America is offering complimentary samples of the items in its new African Exploration Collection. To request samples, contact Rebekah Wicke toll-free at 800-365-3229. You may also e-mail your request to rwicke(at)fuchsna.com or visit http://www.fuchsna.com/African.
About Fuchs North America
Fuchs North America is a leading producer and supplier of value-added seasonings, spices and flavor systems to the food manufacturing and foodservice industries. With a heritage that extends back more than 75 years, the company specializes in the development of full flavor systems, custom flavor profiles and seasoning products – including supporting some of the world's largest and best-recognized food brands.
Fuchs North America's seasoning specialists are experts in anticipating and identifying consumer trends – and converting them into successful flavor profiles. They work closely with food technologists and product development personnel at client companies to design distinctive, differentiated flavor systems. Fuchs products are made in a precision processing environment that ensures consistent, repeatable quality, order to order.
Since 1990, Fuchs North America has been part of the worldwide Fuchs Group, the largest privately-held spice and seasoning company in the industry. The Fuchs Group serves food manufacturing, foodservice and retail segments, backed by secure, quality sourcing plus state-of-the-art production facilities on four continents.
Website address: http://www.fuchsna.com.