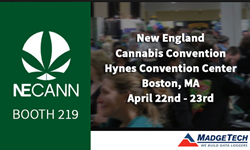 Warner, New Hampshrie (PRWEB) April 20, 2017
The New England Cannabis Network (NECANN) was established in 2014 as a regional resource hub for one of the fastest growing industries in the world. Throughout the year, NECANN hosts a series of events to bring together experts, businesses and patients from across Massachusetts, Rhode Island and Maine.
With medical and recreational cannabis now legal in Massachusetts and Maine, the upcoming convention is the perfect opportunity to bring all aspects of the industry under one roof. In addition to the thousands of attendees, MadgeTech will be among the more than 200 vendors on the exhibit floor demonstrating how the Element series of data loggers can help cultivators save time and money.
MadgeTech sales representatives will be on hand highlighting the convenience of the Element HT wireless data logger for the continuous monitoring of temperature and relative humidity. Real-time readings allow users to react and control the environmental conditions to accommodate different growth cycles, while preventing mold and disease.
To assist facilities who introduce carbon dioxide into the growing environment, MadgeTech offers the 3-in-1 Element CO₂ wireless data logger. It's the ideal solution for obtaining a complete environmental profile by simultaneously monitoring CO₂, temperature and humidity. Equipped with a sensor attached to 16-foot cable, this logger can be placed in remote areas to ensure optimum levels are met and maintained.
MadgeTech's Cloud Services platform is compatible with the Element series, giving users the power to monitor grow conditions 24/7 from any internet enabled device, from anywhere in the world. Both the Element HT and the Element CO₂ are fitted with built-in alarms, users can customize settings to alert users with an audible or visual alarm or send notifications via text or email to keep a close on conditions remotely.
These products and more will be available at the MadgeTech booth #219. Come by to learn more about MadgeTech's industry-leading data loggers, customizable solutions and user-friendly software.
For more information about MadgeTech data loggers, please call MadgeTech at (603) 456-2011 or contact here.