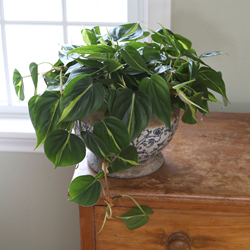 Nature works wonders on the body and mind. Add a few houseplants to your indoor space to improve the air you breathe -- and more.
Miami, Fl (PRWEB) April 21, 2017
Each year, everyone is urged to give back to the earth on April 22. Earth Day is a day to clean, plant trees and look forward to a better future. However, supporting the environment should be an everyday practice.
Going green isn't just about doing something outdoors. Indoor air quality can be two to five times more polluted than outdoor air, reports the Environmental Protection Agency -- so don't forget to bring nature indoors.
This Earth Day, add houseplants to homes and offices to bring in fresh oxygen and filter out harsh chemicals often found in carpets, paint and household supplies. Choose wisely by selecting a plant from Costa Farms' O2 For You: Houseplants with a Purpose collection. These plants absorb up to 87 percent of volatile organic compounds (VOCs) that hide in living and working spaces.
"Whether it's indoors or out, we need to take care of our environment," says Justin Hancock, garden expert from Costa Farms. "Nature works wonders on the body and mind. Add a few houseplants to your indoor space to improve the air you breathe -- and more."
Research conducted by the University of Exeter proves houseplants aid in concentration, increase productivity and boost well-being by 47 percent over areas without houseplants.
Reap the rewards of plants for years to come by adding houseplants to indoor spaces where you work and live this Earth Day.
Five Houseplants to add this Earth Day
1. Peace Lily
Peace lilies are super air cleaners and easy-to-care-for houseplants. With broad, green leaves and charming, white calla-like flowers, peace lily tops NASA's list for removing the most common VOCS. Switch it up by choosing 'Domino' peace lily for its shiny dark green leaves variegated with white.
2. Chinese Evergreen
The striking striped leaves and occasional flowers of Chinese Evergreen make it one of the most attractive air scrubbing plants available. Plus, this plant can be neglected for long periods and still be happy.
3. Philodendron
Classic philodendrons are easy to care for and grow just about anywhere. Many love to climb and look fantastic when grown on a trellis or trailing from of a hanging basket. Try 'Green Heartleaf' Philodendron or variegated 'Brasil' philodendron for plants that are just as fun as they are good for the environment.
4. Dracaena
As they grow, dracaenas show off tree-like woody stems. Given enough time, these stately plants can grow 5 - 6 feet tall. They're ideal for adding a bold splash of texture to offices and bedrooms. 'Limelight' Dracaena is a good choice for brightening any room.
5. ZZ Plant
Perfect for beginners, ZZ plant excels in nearly any spot — from dark corners to sunny kitchen windows. Also part of Costa Farms' Plants of Steel collection, this plant handles low-light and infrequent watering.
To find the best houseplants for your home or office and how to care for them, visit http://www.costafarms.com.
About Costa Farms
Costa Farms is the largest producer of ornamental plants in the world. Founded in 1961 by Jose Costa, Costa Farms is a third-generation, family-owned business that globally stretches over 4,000 acres and employs nearly 5,000 people. Along with thriving indoor and bedding plant divisions, Costa Farms operates merchandising and young-plant production divisions as part of its infrastructure, with operations domestically in South and Central Florida, North Carolina and South Carolina, and abroad in the Dominican Republic and Far East.