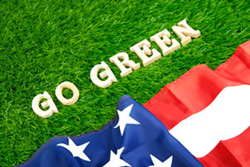 We at Lightning Labels offer a number of eco-conscious labeling options for brands that want to make conservation part of their identity.
Denver, CO. (PRWEB) April 25, 2017
A Month Set Aside for The Environment
America's many beautiful natural ecosystems are worth protecting. Every April, this mission gets the emphasis it deserves through Keep America Beautiful Month. Manufacturers and retailers can use this month as inspiration and a jumping-off point to improve their eco-friendly efforts. Organizations looking for ideas on how to accomplish this goal can work with Lightning Labels, which is proud to offer several green labeling options. Packaging can be an environmental liability - but it doesn't have to be.
Many Ways to Go Green
Every organization will have unique product labeling needs. Materials and finishes that are perfect for some products are completely unsuited for others. Instead of simply offering one earth-friendly labeling option, Lightning Labels has an entire lineup of potential choices that can give items an audience-pleasing look while helping the environment. The following are four great selections for green brands:

Recycled Kraft Labels: This material is best for brands that want their products to have an earthy, natural look. This is a visual identity that fits with a commitment to conservation, so it will be a perfect match for many brands, made of 100 percent post-consumer waste for a minimal environmental impact. Plus, the labels are strong enough for machine application.
Recycled Vellum Labels: Lightning Labels' Recycled Vellum product is similar to its Kraft offering. This material is also 100 percent recycled and suitable for application by machine. The difference is in the appearance: Recycled Vellum Labels are an elegant and neutral white color, suitable for all kinds of printing.
Biostone Labels: Biostone is a paper alternative made from stone and made without deforestation, without water consumption, and without bleaching. It's durable and water-resistant and the adhesive is biodegradable and compostable. Biostone works well for general prime label application on smooth surfaces.
EarthFirst PLA Labels: This material is made from polylactic acid instead of the petrochemicals typical in polymers. It's similar to Lightning Labels' most popular label material, bringing toughness and versatility that make it the right choice for a multitude of products.
Make a Statement
Brands that support the environment don't have to limit their messaging to product labels. Business owners can turn to Lightning Labels for custom bumper stickers that emphasize their brands' commitment to earth-friendly ideals. The bumper stickers should be printed on green materials to ensure the companies don't accidentally undermine their own messaging.
"We at Lightning Labels offer a number of eco-conscious labeling options for brands that want to make conservation part of their identity," stated Lightning Labels Director of Business Development AnneMarie Campbell. "Keep America Beautiful Month is the perfect time to embrace such a message."
Recycled labels and other earth-friendly material choices provide a helpful way for companies to show that their promises on environmental protection aren't just talk. Instead of boxing brands in with one green label option, Lightning Labels offers several distinctive options. From food products with natural bona fides to bath-and-body items created in an eco-conscious manner and everything in between, custom labels and stickers from Lightning Labels are a responsible choice this April - or any time.
About Lightning Labels:
Lightning Labels uses state-of-the-art printing technology to provide affordable, full-color custom labels and custom stickers of all shapes and sizes. From small orders for individuals to the bulk needs of big businesses, Lightning Labels is equipped to handle and fulfill custom label and sticker projects of all types. Best of all, like the name implies, Lightning Labels provides a quick turnaround for every customer's labeling needs. Uses for Lightning Labels' custom product labels and custom stickers include food packaging and organic food labels, wine and beverage labels, bath-and-body labels, and nutraceutical products, such as vitamins, essentials oils, and herbal remedies, as well as event stickers, adhesive window stickers and more. Lightning Labels strongly supports the development of environmentally friendly printing materials and carries EarthFirst PLA, a new kind of green label material made from corn instead of petroleum. While operating as a high-tech printer, Lightning Labels prides itself on its personalized customer service. Lightning Labels provides one-stop shopping for all of your custom label needs. For more information and to place orders online, visit LightningLabels.com. For the latest in packaging news and labeling promotional offers, find Lightning Labels on Twitter (@LightningLabels), Facebook, Pinterest, Google+ and LinkedIn.