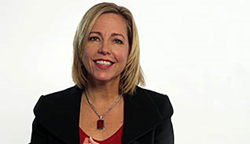 After all, everyone has something to learn and something to teach.
Novi, Michigan (PRWEB) April 25, 2017
There are people representing more generations than ever in today's workforce, and the characteristics typical to each generation can create issues in the workplace. Therefore, MasteryTCN™ has published GWT Next's program "Leverage the Power of Generations" to train employees on how they can benefit from each other's differences and achieve greater success by bridging the generation gap.
This new course, published on MasteryTCN's courseware platform, features Global Workforce Innovator, change-expert and author, Laura Goodrich. Goodrich helps employees make the most of today's generationally diverse workforce to improve collaboration, teamwork and innovation at work.
Employers are faced with many challenges in today's workplace, and a diverse workforce should not be one of them. This program helps organizations leverage every employee's strengths to reach the organization's goals. It is a great place to start building a stronger, change-adaptive workforce. After all, everyone has something to learn and something to teach.
This new program nicely dovetails with the Creating a Mindset for Change series, also created by Goodrich, which helps organizations transform the way they tackle organizational change. This program can also fit in with a larger curriculum on diversity, and MasteryTCN has a library of training options to choose from.
This video-based course, presented in HD video, offers a rich learning experience including a toolkit and learning assessment. Like all courses published by MasteryTCN, this course can be played across all devices and browsers, giving users the ultimate flexibility for when and where they access training assignments. All MasteryTCN courses are compatible with any SCORM Learning Management System.
If you are an employer looking to train your workforce, see if your current HR Cloud Service provider offers MasteryTCN courses or get a referral from us here.
About GWT Next
GWT Next is committed to help you and your organization manage change and be ready for the future of work. As pioneers in cinematic micro-learning where you experience the art of coaching and learning through bite-sized video stories spaced overtime, followed by self-reflection questions, presented on an elegant technology platform.
GWT Next believes an event is a great place to start but no place to stop! Here is why, real change is not an event it's a process and it takes time. Our programs leverage the human side of change with "live" sessions, leader coaching, and peer collaboration blended with cinematic micro-learning programs where the learning continues over time.
About MasteryTCN™
MasteryTCN is the e-learning industry's first Training Content Network. Mastery partners with business thought leaders and leading video content providers to co-produce the largest, standardized, workplace e-learning resource library available. MasteryTCN then partners with HR Cloud Service providers to help employers obtain high-quality training resources through the vendors they already prefer. In this way, Mastery fulfills its mission of helping build more successful, effective and amazing organizations.