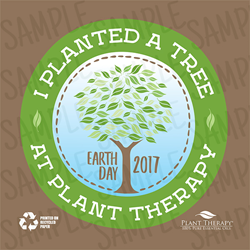 Plant Therapy believes in giving back, both to our customers and to our environment
Twin Falls, ID (PRWEB) April 21, 2017
Plant Therapy, the fastest-growing essential oil company in the U.S., for Earth Day 2017, will plant a free tree on behalf of every customer that places an order April 20th through April 22nd. By doing this, they have an opportunity to plant thousands of trees. This in turn, will help sustain this amazing planet for potentially hundreds of years to come.
"Plant Therapy believes in giving back, both to our customers and to our environment," said Chris Jones, President of Plant Therapy. "By spreading the word about Earth Day, and helping our customers participate in a meaningful way, we can express those beliefs and make a difference at the same time."
Earth Day 2017 is celebrated on April 22nd all over the world to help bring awareness to environmental concerns facing our planet. Plant Therapy supports what Earth Day stands for and wants to share it with their customers by giving back. To help spread the word about Earth Day even further, they're also giving each customer who places an order during this time a free Earth Day 2017 Plant Therapy sticker and an Official Tree Planting Certificate to commemorate their participation in Plant Therapy's tree planting campaign on Earth Day.
Plant Therapy's holiday promotions are always popular and bring a positive response from its customers. This Earth Day 2017 campaign is a sure way to not only help our environment out, but to get their customers excited about helping our planet out as well by bringing more awareness to others about why we celebrate Earth Day.
About Plant Therapy
Founded in 2011, Plant Therapy is a leading supplier of essential oils and accessories. Based in Twin Falls, Idaho, we provide the absolute highest-quality essential oils and are committed to educating our customers on their uses, safety and efficiency. Our products include organic essential oils, carrier oils, blends, KidSafe Synergies and pre-diluted roll-ons as well as accessories such as diffusers, books and natural body care. Visit us at http://www.planttherapy.com.