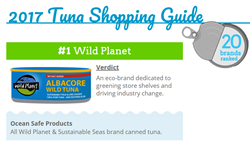 "We applaud the work Greenpeace has done to provide the Tuna Shopping Guide for consumer guidance." – Wild Planet Foods Founder, Bill Carvalho
MCKINLEYVILLE, CA (PRWEB) April 21, 2017
For the second time in a row, Wild Planet Foods has been named by Greenpeace as the #1 tuna brand for sustainable sourcing policy in the organization's biennial Tuna Rankings, which ranks 20 popular canned tuna brands based on their level of sustainable sourcing, fairness and ethical practices for both oceans and seafood workers.
Wild Planet Foods, which is the fourth largest canned seafood brand in the U.S., has been committed to sustainable sourcing and ethical productions since its inception in 2001. Since then, the company — which tied for first place with American Tuna in Greenpeace's rankings— has dedicated its resources to producing high quality, innovative sustainably sourced products and in educating both consumers and retailers about eco-friendly choices.
"We applaud the work Greenpeace has done to provide the Tuna Shopping Guide for consumer guidance," explained Bill Carvalho, founder of Wild Planet Foods. "We congratulate American Tuna for the recognition as co-holders with Wild Planet of the highest ranking. We at Wild Planet consider it an honor to work with retailers in providing tuna products with the best possible sourcing standards, which enables consumers to vote for conservation with their food purchases. It is our hope that many more brands elevate their standards to join the mission of promoting responsible seafood sourcing."
Wild Planet sees the world not only as it should be, but also, as it believes the world can be. By utilizing its influence on market forces and providing ecologically-sound and socially-just seafood products, Wild Planet believes it can promote environmental change from within the seafood industry.
With its five vision statements forming the structure of its sourcing policy, Wild Planet seeks to inspire others to work for a just and environmentally healthy future:

Vision #1 – Wild Planet envisions a world where all people respect marine ecosystems and support use of SELECTIVE catch methods.
Vision #2 – Wild Planet envisions a world that respects local communities' rights of fishing access.
Vision #3 – Wild Planet envisions a world where no sea creature is wasted, but instead, is wisely and gratefully used for food.
Vision #4 – Wild Planet envisions a world with ocean biodiversity in balance.
Vision #5 – Wild Planet envisions an honest world.
To learn more about Wild Planet's environmental practices and its vision for the future, click here. To read the full Greenpeace 'Tuna Shopping Guide' click here. For more information about Wild Planet Foods, its mission, products and sustainability practices, please visit http://www.wildplanetfoods.com.
About Wild Planet
With strict quality control from hook to shelf, Wild Planet Foods' mission is to produce safe, nutritious, great-tasting, and sustainably fished seafood. 100% US owned and based in McKinleyville, CA, the company operates its own docks where selection and delivery of fish are taken directly from the fishermen, some of whom are also shareholders with the company. All products canned by Wild Planet—Albacore, Skipjack, Shrimp, Sardines, Salmon, Mackerel, Yellowtail and White Anchovies—are considered Responsible Choices for sustainability by the consensus of environmental groups. Greenpeace recently ranked Wild Planet #1 in the U.S. for its sustainable sourcing policy. In harmony with the company's commitment to a healthy planet, Wild Planet is now producing organically produced land-based food; the first product is canned Organic Roasted Chicken Breast. For additional information, visit http://www.wildplanetfoods.com or call 800-998-9946.