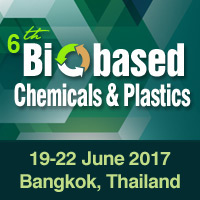 The summit is inspired by continued capacity additions and investments in biochemical and bioplastics industry in Asia, especially with Thailand announcing the 10-year bio-economy scheme.
Bangkok, Thailand (PRWEB) April 25, 2017
Inspired by continued capacity additions and investments in biochemical and bioplastics industry in Asia, especially with Thailand announcing the 10-year bio-economy scheme, 6th Biobased Chemicals and Plastics summit taking place on 19-22 June presents two dedicated tracks – 7th Biobased Chem Asia and 11th Bioplastics Markets.
7th Biobased Chem Asia welcomes PTT Global Chemical as a key speaker with Dr. Chaya Chandavasu, Senior VP – Science & Innovation sharing the group's biochemical plan – with focus on its upcoming biochemical hub in Thailand. Also speaking is Reliance Industries' Dr. Vidhya Rangaswamy, VP presenting on ChemBio Route to Produce 1, 3-Butadiene from Sugars. The biochemical market discussions are further enriched with a session on 'Bio-MEG – A growth driver for Bio-PET segment' by Rajesh Marwaha, SBU Head (International Business), India Glycols and paper on Feedstocks for Biobased Chemicals: Which will be Competitive? by Henna Poikolainen, Senior Consultant, Pöyry Management Consulting.
11th Bioplastics Markets track is led by 2 key players –Natur-Tec and Total Corbion – each presenting opportunities in two major markets – India and China respectively. Dr. Sunder Balakrishnan, Director, Natur-Tec shares the 'Market Demand for Bioplastics in India' – as several Indian cities have banned the use of plastic bags – presenting a big opportunity for bioplastics producers. Dr. Jim Jem, Greater China GM, Total Corbion provides details of China's Emerging PLA production and how China's corn surplus presents a business opportunity for the bioplastics market. He also talks about Total Corbion's PLA venture in Thailand. Finally, bioplastics producer – NatureWorks' APAC Commercial Director – Ian Toh shares details of the 'Role of Bioplastics in the New Plastics Economy', and one of the largest end users – Nestle's Head of Packaging - Ms. Kasma Torrarit showcases 'Nestle's Packaging Innovation and Materials Optimisation'.
Other key discussions at the summit are:

Bio Propylene Market and Supply/Demand Outlook – Toyota Tsusho
Biobased Chemicals in Asia: Opportunities and Trends – Nexant Asia
Latest Production of CO2-based Polyols Building Block – Covestro Polymers
Latest E-Certification to Monitor Bio-based Materials in the Chemical Industry – Advanced Biochemical Thailand
Thailand Bioeconomy& Bioplastics Development: Implication – Thai Bioplastics Industry Association (TBIA)
Asian Markets for Biobased Chemical Building Blocks and Polymers – Wobaltexpedition Consultancy
Availability and Prospects of Cassava for Bioplastics Production – Enviplast
Strategies and Sources to Attract Private Equity for Bio-Based Projects – Capricorn Venture Partners
PEF Polymer and PEF Film – 100% Biobased Gas Barrier Material – Toyobo Co.
Prospect of Bamboo Fiber-PP Composites for Automotive & Construction Applications – Kasetsart University
Latest PBAT Trends and Application in Courier Delivery – JinHui ZhaoLong High Technology Co.
BioPBS Drop in Polymer Applications Growth Potential – PTT MCC Biochem Co.
Packaging Material, Recycling Potential and End of Life Options - Total Corbion PLA
Organizer Centre for Management Technology has also added a Site Visit to Total Corbion PLA plant in Thailand on 22 June.
Visit event website or call Ms. Grace Oh at +65 6346 9147 for more details.