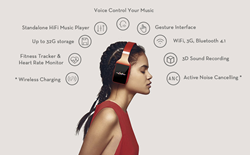 Vinci's mission is to further build and perfect the music search and recommendation system through NLP (Natural Language Processing) and to make a reasonable combination of rational and emotional factors to create the optimal AI companion.
New York, NY (PRWEB) May 03, 2017
Vinci, the company that brought you the world's first smart headphones with artificial intelligence, announced another multi-million USD Series A round of funding from SkyChee Ventures at the beginning of 2017, joining existing shareholders Ferry Venture Capital and Weixing Chen.
In 2015, Vinci raised over 20M RMB pre-A investment from Ferry Venture Capital, Weixing Chen, and Cherubic Ventures after Vinci was identified as one of the few Chinese companies that successfully transitioned to artificial intelligence in the headphone market.
Vinci redefines the headphone category by creating an independent voice first computing device that plays music locally. By using voice commands, consumers are able to search for their favorite songs and scroll through their music collection without ever looking at the device. What's more, it combines Spotify/SoundCloud/Amazon music recommendations with personalized real-time preferences based on heart rate, activities, and the user's surroundings.
Automatic Ear Detection may be widely praised now thanks to Apple's AirPods, but Vinci implemented this function in its Vinci 1.0 Smart Headphones one year before AirPods were released. Effectively, Vinci Smart Headphones started a new category in artificial intelligence smart headphones since 2015.
Similar to Amazon's Echo, Vinci is also an on-the-go artificial intelligence device that constantly builds a user's profile by learning to be a better interactive conversational AI Assistant. Vinci also provides a more powerful voice input/output experience as the result of the device being closer to the user's mouth and ears. This innovation brings a unique user experience through artificial intelligence.
In November 2016, Vinci Smart Headphones took Kickstarter, the biggest global crowdfunding site, by storm, raising nearly $1 million through 4,885 individual backers setting a record fundraiser among Chinese startups. What's more, Vinci also received the attention of major media outlets among consumer electronics and wearables publications such as Wareable, CNET, Engadget, Forbes, and over 200 other large media outlets since the first day the campaign went live on Kickstarter. Wareable compared Vinci and Snapchat Spectacles to "James Bond" technologies.
Shortly after the campaign ended, Vinci was invited to be a part of Super Bowl LI where celebrities, such as Alyssa Milano, and major players, such as Atlanta Falcons' Philip Wheeler and New York Mets' Tim Tebow, really enjoyed the Vinci headphones before the game.
David Zhu, Vinci's Founder and CEO, has claimed that traditional music recommendation algorithms have been designed highly focused on the software component. This abandons the fully personalized music-listening experience since it is difficult to improve the algorithm when devices do not consider real-time variables such as fitness activity data, behavior, time, location, environment, status, and mood. Previous smart wearables do not include this functionality, but Vinci uses several sensors around the headphones to amplify the user's sensory experience by working simultaneously to better understand and communicate with the user in various scenarios.
In the past two years, Vinci has been optimizing interactive voice recognition and communication as well as semantic understanding around music, which is the core service. According to Zhu, "Vinci's mission is to further build and perfect the music search and recommendation system through NLP (Natural Language Processing) and to make a reasonable combination of rational and emotional factors to create the optimal AI companion in the user's life."
Zhu asserts that machine learning technology will be a major theme in the tech industry over the next few years. Currently, the potential in interactive smart devices with artificial intelligence is grossly underestimated. David mentions that while Echo and AirPods are driving the market, they both lack the seamless wireless, device-free, and hands-free user experience that users demand and that Vinci provides. AirPods' lack of independence clearly gives Vinci a unique advantage as AirPods cannot be used without a cellphone.
Sandy Yan, co-founder of SkyChee Ventures, said that the fund highly values innovative Chinese brands and creations of smart computing devices via artificial intelligence technologies. She mentions that the raise was due to optimistic beliefs in Vinci's innovative technologies, solid software and hardware design, marketing capabilities. SkyChee is well-aligned with Zhu's creative vision and execution.
Zhu, who previously founded the popular Chinese social networks "China Tongxue" and "Mobile Messenger", now hopes to continue helping people communicate better, this time combining hardware and software technology. In the long run, not only to connect people and devices, but also Vinci is using conversational interaction and AI technologies to connect users. Zhu's intention is to continue to build closer connections among users as he sets out on his third entrepreneurship venture - Vinci.
After this round of funding, the company will release its Vinci Smart Headphones globally, followed by two new AI products to be announced later on in 2017. Zhu adds that funds will be used towards international expansion and in-depth research into users' artificial intelligence experience. He believes that this is just the beginning of mass production in artificial intelligence devices and that the smart headphones market will continue to grow rapidly "4 billion USD expected in 2020."
For more information, please visit: http://en.vinci.im
For additional media assets, please visit http://en.vinci.im/press
About Vinci
Vinci is the audio technology company reinventing how users interact with their music. The Vinci and Vinci Pro are the world's first intelligent, biosensing wireless headphones designed to provide an AI-assisted approach to music streaming and listening. Through powerful machine learning, Vinci adapts to user command, preference, and environment to curate an unmatched audio experience. With an all-in-one storage encasing, Vinci can be used without a device, empowering on-the-go listening without a secondary device or app. Vinci was founded in 2014 and is headquartered in Beijing with an overseas office in New York. For more information, please visit: en.vinci.im
For media inquiries:
press(at)inspero(dot)im