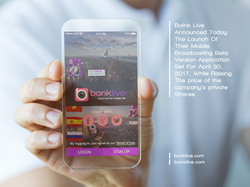 New York New York (PRWEB) April 21, 2017
Today Boink Live Streaming announced it would be launching its new super streaming application at the end of April. The new application is called Bonk Live and will officially launch its beta version on April 30, 2017, to selected beta testers. The Bonk Live Super streaming application is set for a global launch starting June 1st, just one month and 1 day after the beta testing has been completed.
Boink Live streaming has been selecting beta testers for their new mobile application from broadcasters and streamers from all over the world. Interested people have been sending videos to the Bonk Live talent scout, Mr. Shane, at email talentscout(at)bonk(dot)live. Since April 1, 2017, Bonk Live has received videos from hundreds of influencers, entertainers, gamers, nurses, doctors, painters, sports athletes, health trainers, singers, dancers, and a host of other unique and interesting people who all want to use this new mobile super streaming Bonk Live broadcasting platform.
Bonk live will be accepting videos until May 30th for people who have the talent or who are interesting and want to become a Bonkified Broadcaster on their global streaming network.
Bonk lives new platform allows both the viewer and the broadcaster a way to save money on leading products, earn money anywhere in the world from broadcasting live, show their talents, meet new people, or simply have fun online with friends and family.
Broadcasters who reach the Bonkified status could earn up to $10,000 USD per day using the advertising commercial play button or by just reading advertising ads or jingles. Bonk live also allows the broadcaster to earn more money through pay per press advertising from interested viewers who interact with advertisers and advertisements by simply accepting great offers on products from mainstream company's, brands, new offers, or by services from professionals situated anywhere on the planet. Moreover, the broadcasters also earn money from virtual gifts given to the broadcasters by viewers who have enjoyed their live streams.
Joshua Flynn said, "With our new online broadcasting application it makes watching television obsolete. The new generation today is watching movies and ordering products directly from their mobile phones. Digital advertising is the best way to sell new products and services, especially to live audiences who are participating with a live stream. The New Hollywood is not a back lot anymore in Los Angeles California; it is a normal everyday person on their mobile phone that is Broadcasting their talent to interested viewers and becoming a star right in their own backyard".
The Bonk Live Mobile application is just like watching any TV show at home, as the Bonk Live Broadcaster streams their live show while playing video commercials or reading their advertisements while doing what they do online. Except now, it is your next-door neighbor who everybody is watching on Bonk Live who's age ranges from 8 years old to 80 you see driving a Ferrari or being chauffeured in a limo, living in a new multi-million-dollar home, because they became a star while broadcasting live on the Bonk Live Mobile online application.
Daniel Skulnick said, "Live streaming is our future it is so simple to understand, that anyone who can speak, or use sign language online can have fun making money. Just imagine how many elderly people today have no way to earn money and social security certainly is not enough. Nevertheless, with Bonk Live even a 75 years old male or female could go live and tell cool stories and jokes making everybody laugh teaching everyone how to live longer and feel better while making money sitting in their rocking chair!"
People from all over the world have been submitting 2 to 5 min videos who want to broadcast on the new mobile platform. The testers who have been selected will be able to start out at the bottom of the highest level. The top level for Bonk Live is Bonkified level 80. However, the beta testers who will be selected to beta test will start out as a Bonkified Broadcaster level 1, enabling them to use the VIP button and earn big money broadcasting and streaming online.
On June 1st, the application will be a free download on google play and android. The application will be free to use and has no age limit. The viewers and broadcasters will earn money by simply using the application to make calls, view live Broadcasters, and have fun streaming live online. Bonk Live has seen a huge amount of Podcasters and YouTube broadcasters sending in videos because of the huge pay structure Bonk live has put in place. Not to mention everyone who uses the application and wants to be paid directly will receive a Bronze, Silver or Gold debit card called the Bonk Live ASAP MasterCard that can be used to withdraw money from any ATM globally or can be used to buy products online or at any store showing the MasterCard symbol.
Bonk Lives Pioneer shareholders and angel investors have been investing money in building the new mobile application over the last two years. These investors own partnership shares in the company at $5.00 per share. The April launch has caused many shareholders to scurry to buy more stock as the company plans to raise the price to $20.00 per share after the launch in April.
John Lamb, the company's president said, "Our company will be launching the beta version on April 30th. We realized 2 years ago we had an application that was truly a game changer in mobile streaming. Bonk Live is the new Hollywood for entertainment and superstars around the world. Bonk Live won't be taking any footprints or hand prints to put them in front of Grauman's Chinese theater walk of fame, but on the other hand Bonk Live will be making new superstars with millions of people broadcasting all over the planet while making money and having fun online."
Bonk Live is a private company with private offices and companies in Romania, Dubai, England, Philippines, USA, Indonesia and Hong Kong. Bonk Lives streaming application is very simple and easy for anyone to use that owns a mobile phone. Online streaming isn't merely convenient—it's become an almost intuitive way to engage with the web and the world. While on-demand live video streaming services have evolved into a core business of the media and entertainment industry, businesses and organizations in other fields are finding that online video is an effective and increasingly essential tool for marketing, and advertising as well an important communications tool.
Bonk Live, has created a new Super streaming application concept that will earn the company and its pioneer shareholders billions of dollars. Bonk Live TM will be easy to use and free to download. The money derived from Bonk Live super streaming application will be earned through advertising, virtual gifts, credit and debit card fees and a unique payment system for pay per push advertisers.
This press release contains forward-looking information within the meaning of Section 27A of the Securities Act of the 1933 and Section 21E of the Securities Exchange Act of 1934 and is subject to the safe harbor created by those sections