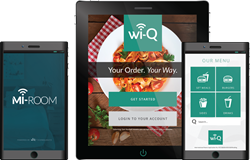 There are plenty of apps in the marketplace, but consumer behaviour is already telling us that apps aren't the future for mobile ordering.
(PRWEB UK) 21 April 2017
After a warm reception at the Retail Business Technology Expo (RBTE) 2016, Wi-Q Technologies have announced their return to the 2017 expo on the 8th and 9th May, at Olympia, London. The award-winning Wi-Q software allows users to order and pay for food and beverages from any mobile device, without downloading and registering on an app. This year's RBTE visitors will be some of the first to experience Wi-Q's latest, seamless integration with partner and co-exhibitor Epson, on stand 831.
Wi-Q have been working closely with Japanese printing giant Epson to provide a tangible ROI for hospitality clients with printer-based solutions, allowing for a faster turnaround of sales. RBTE visitors will be able to order a complimentary drink via Wi-Q on their own mobile device and receive a printed Epson receipt. The ordering process is extremely quick; it takes just 3 keystrokes and a few seconds before visitors view the complimentary RBTE 2017 menu.
Stephen Kennedy, Wi-Q's Non-Executive Chairman, says, "There are plenty of apps in the marketplace, but consumer behaviour is already telling us that apps aren't the future for mobile ordering. Apps use memory, need updating and require a login; every brand wants their own app, but consumers don't want multiple apps cluttering their mobile devices."
The Wi-Q software 'lives' and operates in the cloud, making it extremely easy for users to access via an Internet browser on any device. This also makes it easier for retailers to implement and integrate Wi-Q with their existing systems, including Oracle Hospitality. Venues are reporting revenue uplifts averaging 15% within a month of implementation.
In addition to their Wi-Q software, Wi-Q Technologies will also be offering demos of Mi-Room; a cloud-based mobile ordering solution to hotel room service. Over 17,000 guests are expected to attend RBTE 2017 and the co-located Retail Design Expo and retail Digital Signage Expo. This year's expo will be one of the first chances for the hospitality industry to experience both of Wi-Q Technologies' mobile ordering solutions at the same event. It is also worth noting that this year's expo has 370+ suppliers attending and the biggest floor plan to date. The whole customer experience is covered, ranging from payments and loyalty to RFID and analytics.
Wi-Q is available now as a revenue-based SaaS model with little or no capital investment. For further details visit http://www.wi-q.com or visit the team at stand 831 at RBTE.
END
Wi-Q Editor's Notes:

Wi-Q Technologies is the parent company of Wi-Q and Mi-Room.
Wi-Q is the world-leading integrated HTML software solution, revolutionising the hospitality industry by placing the menu and ordering capability in the customers' hands. Accessed via Wi-Fi or any mobile connection, rather than being a device-restrictive app, Wi-Q can be accessed using any mobile enabled device. The customer can select from the easy to update menu, place their order, make further purchases (think dessert or second cup of coffee), request a bill or pay for their order, all from the comfort of their seat, using their chosen device and without having to queue.
Venues with Wi-Q have reported revenue uplifts averaging 15% within a month of implementing Wi-Q and trials and installations are taking place across the world in a diverse range of sectors from coffee shops to stadiums.
Mi-Room is a cloud-based mobile ordering solution developed to make guest room services more accessible and profitable. It is accessible via any internet-enabled mobile device, without having to download an app.
According to Hotel Executive, hotels with mobile ordering report an 18% increase in room service orders.
In 2016, Wi-Q achieved Gold Partner Status as part of the Oracle Partner Network (OPN).
In March 2017, Wi-Q and Mi-Room achieved integration with Oracle Hospitality Simphony systems.