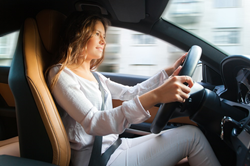 LINCOLN, R.I. (PRWEB) April 21, 2017
With warmer weather on its way, more people are on the road, and this increased congestion can lead to more accidents. That's why Amica Insurance is reminding everyone about the dangers of distracted driving.
The National Safety Council recently announced that 2016 may have been the deadliest year on our roads since 2007, with almost 40,000 deaths in motor vehicles crashes. One of the upward trends behind these statistics is distracted driving. Whether it's texting, making a call or adjusting the navigation system, more drivers are taking their eyes off the road.
April is Distracted Driving Awareness Month, and Amica is sharing the following driving safety tips from the Property Casualty Insurers Association of America:

Plan ahead and allow extra travel time: If using an electronic navigation system, check the directions before leaving to make sure you know where you're going. Blindly following GPS systems can cause accidents.
Observe speed limits, including lower speeds in work zones: Stay focused on the road, and be aware of changing traffic patterns caused by construction.
Keep eyes on the road: When the entire family is in the car, including pets, distractions can multiply. Never allow a pet to ride in your lap while driving. And remember that eating in the car can be just as distracting as using a cellphone.
Use safe phone habits: If making a call from the road, use voice-activated dialing or ask a passenger to make the call. Let voicemail pick up calls when driving alone. Don't text while driving, and if you must use the phone or send a text, pull off the road to a safe location.
And remember, always wear a seatbelt. Whether headed for a weekend getaway or just running errands around town, make sure everyone in the car is buckled up.
About Amica Insurance
Amica Mutual Insurance Co., the nation's oldest mutual insurer of automobiles, was founded in 1907. The company, based in Lincoln, Rhode Island, is a national writer of auto, home, marine and umbrella insurance. Life coverage is available through Amica Life Insurance Company, a wholly owned subsidiary. Amica employs more than 3,700 people in 44 offices across the country. For more information, visit Amica.com.
Media inquiries can be sent to MediaCenter(at)amica.com.
Twitter: Amica
Facebook: Amica Mutual Insurance Co.