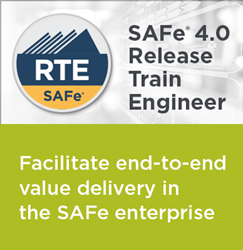 The RTE class provided a great opportunity to network with other RTEs and facilitate real life learning and takeaways.
Boulder, CO (PRWEB) April 21, 2017
Scaled Agile, Inc. (SAI), provider of SAFe®, the world's leading framework for enterprise agility, today announced the release of a new course, SAFe 4.0 Release Train Engineer with RTE Certification. The course is being offered to meet the demand from existing and aspiring Release Train Engineers (RTEs) looking to develop their skills as key facilitators of value delivery in a SAFe organization.
Sometimes described as a 'chief Scrum Master' for the program level, the RTE helps to ensure that the overall goals and objectives of the business are met by facilitating value delivery through an Agile Release Train (ART). Course attendees will learn skills related to servant leadership, facilitating program-level processes and execution, addressing impediments, managing risk, coaching the ART, and driving relentless improvement.
"Being an effective RTE requires an exceptional range of skills," says Jennifer Fawcett, SAFe Fellow and Director of Learning and Certification. "In addition to facilitating large scale program execution, RTEs need to know how to effectively coach and serve leaders, stakeholders, teams, and Scrum Masters in Lean-Agile practices and mindsets."
Describing her experience at the beta class held in March, Desirée Cuniberti, RTE, Bloomberg LP, said, "The RTE class provided a great opportunity to network with other RTEs and facilitate real life learning and takeaways. The content is rich as well as thought provoking, and the exercises are equally dynamic and engaging."
"Demand for the RTE course has been growing, and it was time to provide this important resource to the community and the enterprises that practice SAFe," says Dean Leffingwell, Chief Methodologist and creator of SAFe. "Our expanding role-based curriculum delivers the knowledge each individual needs, based on his or her specific role within the enterprise. The result is greater alignment and visibility, improved performance throughout the enterprise, and ultimately better outcomes for the business."
According to indeed.com's job trends data, there has been a 600 percent increase in job postings for Release Train Engineers over the last 12 months, making the RTE certification a must-have credential for SAFe RTEs looking to boost their value in today's career marketplace.
Public classes for SAFe 4.0 Release Train Engineer with RTE Certification are being held in multiple cities, including Boston, Boulder, Chicago, Cincinnati, London, Minneapolis, Phoenix, and San Jose. Private and onsite classes are offered through Scaled Agile's Gold SPCT Partners and Scaled Agile. Information about the course can be found at scaledagile.com/safe-release-train-engineer. Registration details and a public course calendar can be found at scaledagile.com/calendar.
To fully benefit from this class, attendees should have at least one current SAFe Certification, and, launched or participated in at least one Agile Release Train and one Program Increment.
About Scaled Agile, Inc. (SAI)
Based in Boulder, Colorado, Scaled Agile's mission is to help system- and software-dependent enterprises achieve better outcomes, increase employee engagement, and improve business economics through adoption of Lean-Agile principles and practices based on the Scaled Agile Framework® (SAFe®). SAI supports over 115,000 practitioners of the Framework through training, certification, consulting services, and a global partner network that reaches over 35 countries and 350 cities. As a contributing member of the Pledge 1% corporate philanthropy movement, SAI also seeks to inspire, facilitate, and encourage other companies to make a positive impact in their community.
Learn about Scaled Agile, Inc., and the Scaled Agile Framework, at scaledagile.com and scaledagileframework.com.
To view SAFe case studies, visit scaledagileframework.com/case-studies.
Media Contact:
Regina Cleveland, Director of Communications
+1.720.477.1756
Regina.Cleveland(at)scaledagile(dot)com