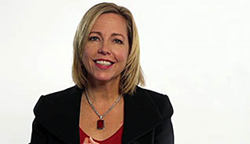 Employers are faced with many challenges in today's workplace, and a diverse workforce should not be one of them.
Novi, Michigan (PRWEB) May 02, 2017
One struggle employers are encountering in today's workplace is dealing with the most generationally diverse workforce and the coinciding workplace conflicts. Mastery Training Services has added GWT Next's program "Leverage the Power of Generations" to its training library to help employers successfully bridge the generation gap.
This new course features Global Workforce Innovator, change-expert and author Laura Goodrich. Goodrich helps employers make the most of today's workforce to improve collaboration, teamwork and innovation at work.
Employers are faced with many challenges in today's workplace, and a diverse workforce should not be one of them. This program helps organizations leverage every employee's strengths to reach the organization's goals. This course goes beyond only examining the characteristics of each generation, it also addresses how people can learn from each other, better understand each other, and draw from each other's strengths to work more harmoniously. After all, everyone has something to learn and something to teach.
This new program complements with the Creating a Mindset for Change series, also created by Goodrich, which helps organizations transform the way they tackle organizational change. This course can also be included in a diversity curriculum, and Mastery.com has a library of diversity training courses available.
This course is published on the MasteryTCN™ courseware platform, which provides continuity in learner experience from one course to the next. All courses on the platform play across all devices and browsers, giving users the ultimate flexibility for when and where they can access training assignments.
Mastery Training Services offers a library of nearly 900 video-based training courses, the majority featuring HD video, for organizations of all sizes, across industries. If you are looking to train your workforce, click here.
About Mastery Training Services
Mastery Training Services is a leader in the corporate online training marketplace. We help organizations grow and become more successful with our comprehensive workplace training systems and services. In this way, Mastery fulfills its mission of helping build more successful, effective and amazing organizations.