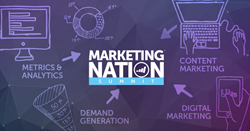 Chicago, IL (PRWEB) April 24, 2017
For the third consecutive year, INXPO, a Marketo Launchpoint Partner, will be powering the live stream of Marketo's Marketing Nation Summit, the premier industry event for anyone involved in digital marketing and engaging customers. The event taking place in San Francisco on April 23 - 26, 2017 will have 120 plus sessions, six keynotes and over 6,000 attendees.
"We love the benefits of streaming our Summit through INXPO's platform. We are able to extend the reach of our great content to thousands of additional attendees and provide a hands-on Summit experience," commented Heidi Bullock, Group Vice President of Demand Generation at Marketo, Inc.
In addition to streaming, INXPO is also a Gold sponsor of the event and will be giving a partner presentation on Monday, April 24 at 6:15PM in the expo hall. Following, our recent release of INXPO STUDIOSM, the first ever HTML5 webcasting technology with broadcast style video capabilities, INXPO wil be demonstrating the technology live at their booth throughout the conference.
"Marketers will be impressed with what STUDIO can bring to the table to enhance their product launches, lead generation programs and pipeline acceleration efforts," Malcolm Lotzof, CEO of INXPO said.
To register for the live stream of Summit, click here.
About INXPO
INXPO's Event Cloud® empowers organizations to reach their stakeholders through engaging online video events — on any device, at any time. Our solutions for Marketing, Corporate Communications, Training and Sales Enablement are trusted by many of the world's most esteemed enterprises, including Aon, Cisco, Gap, Microsoft and UnitedHealthcare, to create memorable online experiences. 
To learn more about how INXPO can fit into your organization's communications strategy contact us at contactus(at)inxpo(dot)com or call us at (312) 962-3708.
About Marketo
Marketo, Inc., provides the leading engagement marketing software and solutions designed to help marketers develop long-term relationships with their customers - from acquisition to advocacy. Marketo is built for marketers, by marketers and is setting the innovation agenda for marketing technology. Marketo puts Marketing First. Headquartered in San Mateo, CA, with offices around the world, Marketo serves as a strategic partner to large enterprise and fast-growing small companies across a wide variety of industries. To learn more about Marketo's Engagement Marketing Platform, LaunchPoint® partner ecosystem, and the vast community that is the Marketo Marketing Nation®, visit http://www.marketo.com.