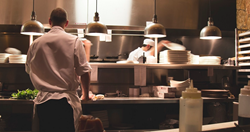 "As outlined in our case study, we assist our clients in the realization of previously uncaptured business. By tailoring our solutions with their business objectives we optimize revenue and enhance the guest experience," David Schofield, CEO of RRT.
San Diego, CA (PRWEB) April 25, 2017
Restaurant Revolution Technologies, Inc. (RRT), a leading provider of order management, virtual call center and technology solutions for restaurants helping them to manage and optimize their off-premise takeout and catering business, recently released a new case study that finds their takeout solutions and newest customizations lead to in excess of 22,000 takeout orders and $900,000 in takeout revenue across (15) store locations in nearly 45 days of implementation with latest client.
The case study reveals that in the waning days of 2016, RRT provided a series of new and customized services to support one of their newest clients that experiences an exceptional increase in volume during the end of the year holiday season by operating approximately (15) locations throughout Southern California. The solutions and customizations implemented led the client to realize a significant increase in their holiday takeout and catering business.
From November 15, 2016 through December 31, 2016 in excess of 22,000 orders were placed via online, mobile, phone call and staff ordering portals leading to nearly $900,000 in seasonal takeout revenues. Prior to partnering with RRT, the client struggled trying to handle and manage all of this volume. The case study highlights specific takeout order volume breaking down by solution as follows:

Orders via Mobile: 1,033 orders
Orders via Online: 9,004 orders
Orders via Phone: 4,347 orders
Orders via Staff Ordering Portal: 7,713 orders
Additionally, the case study indicates RRT plans to subsequently add the seasonal custom features into their standard off-premise solutions offering to support catering, seasonal and other high volume activity for other RRT clients.
The customized services implemented include:

A customized online and mobile ordering portal for their guests along with a customized staff ordering portal.
Integration with a new payment provider to authorize payments in advance for guest orders at the time the order is placed compared to the typical process of not receiving the payments until the order is actually picked up.
Implementation of product mix reporting for advance orders that provides the future quantity of menu items ordered through the RRT system to assist clients with planning and inventory management.
Implementation of a sourced credit card swipe reader that integrates into RRT's proprietary software.
Additional POS and CRM integration related to date and time controls to accommodate specific minute selections, custom POS item categories, and non-taxable item features.
Ability to send email confirmations to guests at the time of their advanced order as well as an additional reminder email one day prior to the guests' scheduled pickup time.
Implementation of an updated reporting services platform to produce real-time reporting as well as created a customized customer order report, in addition to other standard product-mix reports.
Integration with Fishbowl and Google Analytics for additional reporting, trending and monitoring.
"We are excited about our latest published case study regarding the impressive results our solutions and newest customizations had during an extremely busy period for one of our clients that struggled with handling this overwhelming takeout volume previously. As outlined within the case study, our client partnership has been mutually rewarding for both organizations that substantiates our 'Beyond Takeout' core values," said David Schofield, CEO at RRT. "RRT's short and long term value is to not only assist clients in the realization of previously uncaptured business, but also working with them to tailor our solutions and services and align them more closely with their business objectives to optimize revenue streams as well as the guest experience."
To read the full case study, please visit RRT's website: http://www.rrtusa.com.
About Restaurant Revolution Technologies
Restaurant Revolution Technologies, Inc. (RRT) provides popular restaurant chains nationwide easy-to-implement phone, online and mobile takeout, order management, customer loyalty and catering solutions that enable restaurant operators to offer their takeout customers a consistently professional and delightful ordering experience where the customer rarely waits on hold, speaks to a friendly and knowledgeable menu-certified virtual waiter, and can be confident that the order is accurate. It's what we refer to as going "Beyond Takeout." The turnkey, patented takeout order management software system provides a positive ROI by reducing operational costs, while increasing the number of orders and improving profits by leveraging the feature rich call center, online and mobile ordering platforms all integrated with top POS systems that service a majority of restaurant's nationally. Visit us online at: http://www.rrtusa.com