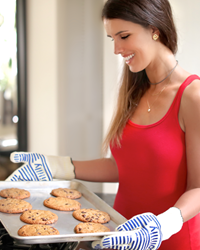 Ho Chi Minh City, Vietnam (PRWEB) May 27, 2017
May is National Barbecue Month, and three-quarters of American adults own a barbecue or grill, according to a study conducted by the Hearth, Patio & Barbecue Association (HPBA). With Memorial Day marking the traditional start of the grilling and barbecuing season across much of the United States, enthusiasts everywhere are ready to start cooking.
As one of the world's leading suppliers of top-quality kitchenware, kitchen accessories, and more, Coililly has what backyard chefs will need to succeed in safety and comfort as they barbecue and grill throughout the rest of the year. With a nearly perfect rating at Amazon.com, for example, the company's affordable, EN407-certified, heat-resistant kitchen and grilling mitts protect against temperatures up to 932 degrees Fahrenheit. Just as much at home when pulling hot pots from an oven as when worn for barbecuing, the gloves stand as a fine example of how family-owned, customer-service-focused Coililly strives to make every client happy.
"As with so many other people around the world, there are few things we enjoy more than grilling up some delicious food with friends and family," said Coililly representative Freda Hartzt. "With the arrival of Memorial Day in the United Stats, grills and barbecues all across the country will be firing up for the season. Just as our top-rated oven mitts have resonated with so many Amazon reviewers, they're also perfect for backyard grilling and barbecuing. As always, the goal of providing unbeatable customer service guides everything we do here at Coililly, so every buyer can count on being satisfied and more."
An average of four in ten American grill and barbecue owners, according to the most recent HPBA "Barbecue Lifestyle, Usage & Attitude" report, grill at least once each winter, but the warmer months of the year remain by far the most popular for outdoor cooking. The same study named the Fourth of July, Labor Day, Memorial Day, Father's Day, and Mother's Day as the five top occasions for backyard barbecues, meaning that people all across the country are now preparing for flavorful months to come.
As a leading source for top-quality kitchen and grilling accessories, Coililly is ready to help cooking enthusiasts everywhere enjoy their activities even more. Driven by a deep dedication to ensuring that every customer is happy, family-owned Coililly helps "Make Life Better" for all those who love to cook and enjoy delicious food. With barbecue season now underway, all are invited to visit the Coililly website to learn more.
About Coililly:
Make Life Better with top-quality kitchenware and accessories from family-owned Coililly, where customer service is always a focus.
Media Contact:
Freda Hartzt
Coililly
Bui Thi Xuan,p3 HCM 700000
Vietnam
Telephone: 0120 204 4584
Email: support(at)coililly(dot)com
Website: http://coililly.com