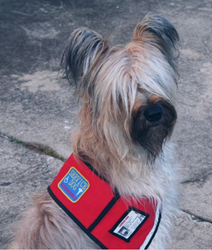 A service dog doesn't pass judgement, but breaks into the world of autism & becomes a crucial part of the family's life.
Apex, North Carolina (PRWEB) May 09, 2017
Ry-Con Service Dogs, a non-profit organization located just outside Raleigh, North Carolina, has been providing hearts of gold wrapped in fur for those in need since 2009. Ry-Con is now the largest provider of autism service dogs on the east coast with over 90 dogs placed in homes. They specialize in helping those with neurological based disabilities with a focus in autism, PTSD, anxiety disorders & seizure alert. To date, Ry-Con has had a 100% success rate. They attribute this to having a robust program and unique training plan that is customized to meet the needs of each individual.
President & head trainer, Mark Mathis, said "Our service dogs act as constant companions to help improve social interactions and relationships, expand verbal and nonverbal communication, teach life skills, enhance safety, gain independence, improve sleep habits and elicit an overall calming effect adding to a better quality of life."
Ry-Con is unique in that they exclusively train Briards for service work. They believe when dealing with brain based disorders, the companionship and bond with the child is most critical. That is why they chose a breed from the herding dog group. Briards have a natural instinct to jealously tend to their companion and enjoy spending long hours by their side. They are natural leaders and perceive their family as a flock to be looked after, loved and protected.
In the spring of 2017, Ry-Con Service Dogs is adding a second location on over 8 acres of property. This new state-of-the-art facility will provide additional kennel space, training and 24/7 care for their dogs. It will provide healthy and interactive features for the trainees to engage as they develop into well rounded, conditioned fully trained service dogs.
With rates of autism steadily increasing, they make it their mission to provide a higher quality of life that every person deserves whether a small child, teenager or adult.