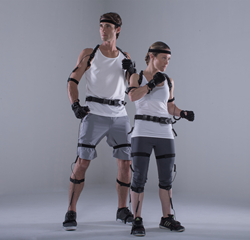 With Perception Neuron we give you the same professional tool for just under $1500 - opening up a universe of opportunities for small studios and independents to create for the first time their own VFX, animations and live broadcasts.
Las Vegas, Nevada (PRWEB) April 24, 2017
In the space of just over two years, Perception Neuron by Noitom has become a go-to motion capture tool for game developers, VFX artists, filmmakers, animators, and online content creators. And now, as more major motion pictures turn to special effects to excite audiences; it is increasingly proving an effective tool for film directors and VFX supervisors looking to capture accurate pre and post visualization footage for crafting stunt sequences.
Recently, it was revealed that Perception Neuron was used in the filming of Logan, the Marvel X-Men blockbuster released this March. On-set pre/post visualization supervisor for Logan, Clint Reagan, successfully used Perception Neuron's mocap to determine distances, space and movements within the scenes of the film where the character Charles Xavier is telepathically controlling other characters.
This type of capability for VFX as well as for 3D animation is what the Perception Neuron system is designed for. The combination of live character animation software and motion capture technology has made realistic, actor-lead animation easy and accessible to VFX professionals, animators, filmmakers and broadcast content makers everywhere. Perception Neuron will be showcasing all of its capabilities this week at NAB Show 2017 in Las Vegas.
At NAB, Perception Neuron will be demonstrating to visitors the simplicity and practicality of using a head-to-toe motion capture system for live or recorded animation with the help of two vigorous and cohesive animation software platforms: Reallusion's iClone and the Kigurumi Live Animation known as KiLA.
iClone offers a laundry list of features in its popular, real-time 3D professional animation software while Kigurumi, which translates to "wearable toy," gives users a simplistic yet effective platform for streaming live anime characters for entertainment and performances.
Combined with the convenience of Perception Neuron's motion capture, these types of robust animation softwares open the door to professional, lifelike animation and visual effects that can be accessible to any animator or filmmaker—with or without a studio.
"Perception Neuron is as revolutionary as the DSLR was to video content creation," says Roch Nakajima, President of Noitom International. "Motion capture systems much like pro video cameras used to cost hundreds of thousands of dollars. With Perception Neuron we give you the same professional tool for just under $1500 - opening up a universe of opportunities for small studios and independents to create for the first time their own VFX, animations and live broadcasts.
NAB Show is an annual trade show produced by the National Association of Broadcasters and takes place at the Las Vegas Convention Center from April 22-27 with the Exhibition happening from the 24th to 27th. Perception Neuron will take part in the exhibition portion and will be located at Booth SU7012 in the south hall, upper level. For more information about NAB Show, please visit nabshow.com.
As a special offer, during NAB show, Noitom will be offering $100-off coupons towards the purchase of a 32 Alum Perception Neuron motion capture system. Coupons will be available at the Perception Neuron booth and are redeemable through April 30 on the Perception Neuron website, neuronmocap.com.
Animation packages featuring iClone and Perception Neuron are also available for purchase now on the Perception Neuron website.
Members of the media are invited to the Perception Neuron booth to receive a detailed
run-through of the technology. For media inquiries, please email pr(at)noitom.com.
To learn more about Noitom and its other motion capture and VR products, please visit noitom.com. For more information about Perception Neuron, go to neuronmocap.com.
Founded in 2011, Noitom Ltd. works with a team of dedicated engineers who develop world-class motion capture technology for consumer and industrial markets through the integration of MEMS sensors, pattern recognition, human kinetics and wireless transmission. Noitom is an international leader in innovative technology for use in animation, film, medical applications, robotics and gaming. Noitom is headquartered in Beijing with affiliate offices in Shanghai and Shenzhen. The company also has two US offices located in Miami and Scottsdale. For further information about Noitom and its services, please visit, http://www.noitom.com. For general inquiries, please email, info(at)noitom.com.