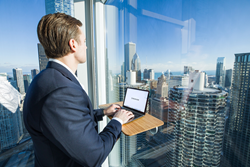 DeskView is lightweight, easy to install and ideal for both office work and personal use
Chicago, IL (PRWEB) April 24, 2017
Today DeskView launched a Kickstarter campaign for their namesake product, an ultra-light, ergonomic, portable work surface. While other work surfaces can come with a hefty price tag, this window-mounted, adjustable standing desk is available on Kickstarter at the early bird pricing of $99 USD.
Built in Chicago by two entrepreneurs who saw the need for mobility in the office, DeskView is engineered to help users create their optimal work space. The desk can be mounted on any non-porous surface in less than 10 seconds by pressing down on the securing levers, which activates two industrial grade suction cups. DeskView is made with aerospace-grade aluminum housings, has a maximum recommended load capacity of 40 pounds, and is available with surfaces in stylish gloss white, clear, and bamboo.
"The window is the highlight of any office, yet a majority of desks face the wall. We wanted to solve the problem of stagnant, wall-facing seated desks," says DeskView Co-Founder Michael Bolos. "To solve the problem, we completely rethought the office space."
Created with the help of award-winning, product development firm MNML, this American made product strives to address the problems standing desks have tried tackling for years: portability and accessibility. By doing away with the bulky, expensive and user-confining setup of traditional standing desks, DeskView is seeking to revitalise the modern work environment.
"We wanted to create a desk that was lightweight, easy to install and ideal for both office work and personal use," says DeskView Co-Founder Jason Grohowski. "DeskView incorporates all of these elements, while maintaining a sleek and minimalist design to add to its multiple uses. After 2 years of prototyping and testing, we're proud to finally present DeskView and help users reclaim their windows."
DeskView's campaign will run from April 24 - May 29, 2017, with an estimated delivery date of November 2017. For more information on the pledge levels, visit the Kickstarter page.
Media wishing to learn more about the company or interview DeskView personnel should contact PR agent Borjana Slipicevic, at 1-778-858-2595.
Media Contact
Borjana Slipicevic
Proper Propaganda
+1.778.858.2595