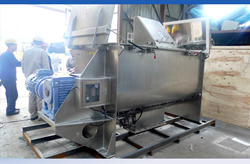 "We are excited to be able to offer our clients Mixing & Drying machine at the lowest possible prices. We believe in introducing new technology, keeping our company lean, in turn we don't have to charge as much as our compe
(PRWEB) April 25, 2017
Vortex Mixing Technology, a leading mixer & dryer manufacturer established in 1989, is excited to announce a 5% discount for all their products in May, will beat any of the major manufacturers' pricing on most common mixers and dryers. If you're looking for the best price of mixing & drying machine, contact Vortex Mixing Technology.
In the last ten years Vortex Mixing Technology has introduced plenty of process technology and equipment from Germany, such as numerical control laser cutting machines, robot welding machines, and thus machining precision is greatly improved and cost is reduced. Diligent design, precision fabrication, and continuous innovation make Vortex to be the first choice by end customers. Furthermore, they also have close relationships with European mixer partners to communicate technology and do R&D work together to present smart mixer machinery to customers. Vortex Mixing Technology Co-Founder & President Michael said, "We are excited to be able to offer our clients top quality Mixing & Drying machines at the lowest possible prices. We believe in the Kaizen Approach to business, introducing new technology, keeping our company very lean, in turn we don't have to charge as much as our competition, so we can pass along the saving to our clients."
Vortex do not only focus on quality, but also pay attention to customer's process. Their competitive edge has come from generating added value for customers worldwide. They design the mixers for multiple functions such as mixing, drying, coating, cooling and reaction in food, chemicals, pharmaceutical, feed, building material and dyestuff industry.
About Vortex Mixing Technology
Vortex is a leading powder mixer manufacturer in Asia based in Shanghai and Zhengzhou, China. It was founded in 1989 from a small workshop to a group company with 150 people and 500 sets mixers output capacity per year. Their products contain ribbon blender, plough shear mixer, paddle mixer, double cone blender, conical screw mixer, vertical ribbon mixer, double cone vacuum dryer, conical vacuum dryer and other auxiliary equipment.
For additional information, visit https://www.incmachine.com and call 0086 180-3911-8812 or send email to info(at)incmachine(dot)com