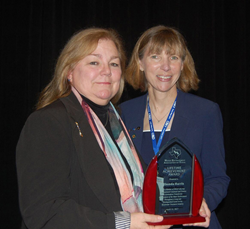 My time and experience with the organization has been a true pleasure, and I am humbled by their recognition. I look forward to many more years with this incredible organization.
Dallas, TX (PRWEB) April 25, 2017
Tata & Howard, Inc., a leading innovator in water, wastewater, stormwater, and environmental engineering solutions, is pleased to announce that Vice President Rhonda E. Harris, P.E., MBA, WEF Fellow, was awarded the Water Environment Association of Texas (WEAT) Lifetime Achievement Award during the awards luncheon at Texas Water 2017 held at the Austin Convention Center, Austin, TX on April 11, 2017. This prestigious award recognizes and honors an individual who has demonstrated continual and tireless contributions toward the improvement of the water environment throughout a long and distinguished career in the wastewater treatment industry and in WEAT and WEF. The award goes to a person of proven preeminence in WEAT activities and who has held positions of leadership in the WEAT organization.
"Receiving the Lifetime Achievement Award from WEAT is truly an honor," stated Ms. Harris. "WEAT has demonstrated a longstanding dedication to the protection of the water environment as well as support and commitment to water environment professionals. My time and experience with the organization has been a true pleasure, and I am humbled by their recognition. I look forward to many more years with this incredible organization."
About Rhonda Harris
Rhonda Harris has over 40 years of experience in managing and administering a variety of facilities and programs in the water environment industry. Ms. Harris is a licensed Texas Class "A" Water and Class "A" Wastewater Operator, and an approved operations trainer in Texas. Her experience includes development and implementation of technical training programs for operations personnel, and authoring and implementation of regulations/rules for the U.S. Environmental Protection Agency. She has extensive experience in design, construction, management, and management consulting for public and private water sector, worldwide.
Ms. Harris joined the Water Pollution Control Federation and the Texas Water Pollution Control Association in 1982, while still a student at the University of Texas at Arlington. She was on the steering committee to create the North Texas Section of TWPCA in 1983 and was active in getting the section approved at the WPCF meeting in 1984 in New Orleans. She became the membership chair for TWPCA in 1985 and was elected a director representing TWPCA on the WPCF Board of Directors in 1989. She served on the board through the name change process to the Water Environment Federation and the Water Environment Association of Texas. She served on the WEF Executive Committee (now called the Board of Trustees) from 1992 to 1993.
In 1994, Rhonda was elected vice president of WEAT and served as president from 1996 to 1997. She was a leader on the original cask force that created the Texas Water conference, which is now the largest regional water conference in North America. She served as exhibits chair from 2003 to 2013, during a period of extreme growth for the conference exhibits. Rhonda was also elected vice president of WEF in 1996 while serving as president of WEAT. She served as president of WEF from 1998 to 1999. As past president, she was instrumental in creating the Water Associations Worldwide, an international forum of the major global water associations, and served as its convener for the first three years of its ten year existence. Rhonda was elected as a member of the International Water Academy, a forum of the top 500 water professionals worldwide, in 2000. In 2001, she received an Honorary Membership in the American Waterworks Association. She served as the chair of the Executive Committee for IWRN from 2008 through 2012, and is still a member emeritus on the Board.
Currently, Rhonda is a director on the Board of the Water Technology Acceleration Project (WaterTAP), a provincially funded organization in the province of Ontario, Canada, to assist new water technologies to market. In addition, she serves on the Board of Advisors for the College of Engineering at the University of Texas at Arlington. With 35 years of active membership in WEF and WEAT, she continues to actively mentor young professionals in the water sector.
About Tata & Howard, Inc.
Founded in 1992, Tata & Howard, Inc. is a 100% employee-owned water, wastewater, stormwater, and environmental consulting engineering firm dedicated to consistently delivering cost-effective, innovative project solutions. Working with clients as a trusted partner, Tata & Howard provides a full range of environmental engineering services, from concept to completion, as well as sustainable solutions including low impact development and LEED certified building. Tata & Howard has gained a solid reputation as an industry leader in the Northeast by bringing knowledge, integrity, and dedicated service to all sized markets, both public and private. With offices in Massachusetts, Connecticut, Maine, New Hampshire, Vermont, Arizona, and Texas, Tata & Howard's national expansion has included projects in Louisiana, New Mexico, New York, and Pennsylvania. For more information, please visit http://www.tataandhoward.com.