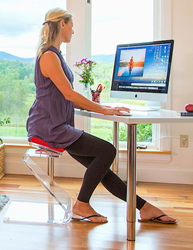 Active sitting means that your spine, muscles, and vertebrae are free to make tiny, almost imperceptible adjustments while sitting. It's exactly 180 degrees from the fixed-position of a static ergonomic chair.
Burlington, Vermont (PRWEB) April 26, 2017
Active seating manufacturer QOR360 has published a new, informative article on its website titled "Which Chair is Best for Back Pain? Ergonomic or Active Sitting?" The article was written to provide consumers with a clear understanding of the difference between ergonomic chairs that promote a static sitting posture, and the more dynamic movement that Active Sitting chairs provide. In brief, most ergonomic chairs restrict the human body's natural inclination to move and adjust, even while sitting. The end result, especially after long periods of sitting in the workplace and home, can be a wide range of spinal and health-related issues. With Active Sitting chairs, the spine is free to move and make a series of continuous, natural adjustments that help strengthen and realign muscles, tendons, and vertebrae.
As QOR360 founder Dr. Turner Osler notes, "Across most industrialized societies people spend, on average, nearly 11 hours each day just sitting. Unfortunately, the human body wasn't meant to be so immobile for such long periods of time. Active sitting means that your spine, muscles, and vertebrae are free to make tiny, almost imperceptible adjustments while sitting. It's what happened when your forefathers took a break from the hunt, rested their spears against a tree, and took a seat on a round rock."
QOR360's line of Active Sitting, ergonomic office chairs utilize the company's proprietary rocker technology — the Eccentric Bi-cylinder, which was developed by Dr. Turner Osler, a University of Vermont trauma surgeon. QOR360's patented Eccentric Bi-cylinder creates a subtle, omnidirectional, rocking motion that allows the spine and hips to continuously re-adjust to gravity, creating a fluid movement that promotes strength and flexibility, and improves overall back health.
Inspired by traditions of Yoga, Akido, and Feldenkrais, QOR360's development team includes doctors, furniture designers, and body-work experts, who have combined their expertise to create the contemporary and innovative line of QOR360 products. The company's focus is on developing ergonomic products that transform the sitting experience from static sitting, which is restrictive and unhealthy for the spine, to Active Sitting, which is more dynamic, natural, and therapeutic for the back and spine. Beyond its use as an ergonomic office chair for task sitting or simply as a chair for back pain, QOR360's ergonomic seating is elegantly designed and fits beautifully in the home, office, studio, and more. The current line of QOR360 seating, which can be viewed and purchased online at http://www.qor360.com, includes six models: the Uma, Juno, Cleo, Alpha, Darwin, and Lex.
The QOR360 company is based in Burlington, Vermont and ships its products worldwide. To learn more, please visit: http://www.qor360.com