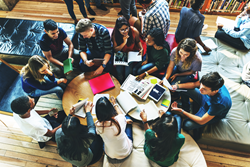 "Research shows that student engagement and ownership increase when learning is connected to their unique interests and needs"
Bristol, Vermont (PRWEB) May 02, 2017
SchoolHack Solutions of Bristol, Vermont in collaboration with the Tennessee Department of Education are pleased to announce the launch of a partnership to improve college and career readiness for Tennessee students.
The department's college and career readiness work aims to improve and integrate existing information systems to empower Tennessee students, parents, and educators to make well-informed and timely decisions based on current, relevant information drawn from K-12, postsecondary, and workforce data.
As part of a $7 million grant from the Institute of Education Sciences (IES), TDOE will offer pre-selected pilot districts the opportunity to implement SchoolHack's LiFT™ software platform. LiFT allows students and educators to create flexible learning pathways connected to the unique interests and aspirations of every learner. "We applaud TDOE's leadership and vision in the decision to bring this innovative, personalized approach to their college and career readiness initiative," says David Lipkin, CEO and co-founder of SchoolHack Solutions.
LiFT, designed by educators with years of experience designing learner-centered systems, helps students create meaningful and motivating personalized learning plans. Students will use LiFT to identify their unique interests, skills, and strengths and match them with the most appropriate post-secondary resources, opportunities, and supports available. Ongoing progress monitoring of LiFT data will help educators, counselors, and the TDOE continuously improve their college and career readiness programs to meet the needs of every student.
The TDOE's work to promote college and career readiness for all students is part of the Drive to 55, Tennessee Gov. Bill Haslam's initiative for 55 percent of Tennesseans to be equipped with a college degree or certificate by the year 2025. Tennessee has implemented a series of nationally recognized initiatives aimed at helping students transition from high school graduation to postsecondary education. These efforts include providing financial support and mentorship through Tennessee Promise; sharing more guidance with students through AdviseTN; offering more early postsecondary opportunities and increasing the spotlight on students' access to them through a new school-level accountability framework; and hosting focus groups with high school students to hear firsthand about their experiences and then sharing this in a public report. Additionally, Tennessee was named recently as a recipient of the highly competitive $2 million New Skills for Youth grant designed to build on locally and regionally led efforts through the statewide Pathways Tennessee initiative, which works to strengthen and expand education-to-career learning pathways for Tennessee's students.
"Research shows that student engagement and ownership increase when learning is connected to their unique interests and needs; it's about connecting learning to life," says Josie Jordan, SchoolHack's President and personalized learning pioneer. "LiFT was developed specifically to bring students, families, and teachers together as collaborators."
SchoolHack Solutions is an innovative educational technology company creating software solutions that transform education to be learner-centered. LiFT is being implemented in schools and districts throughout the United States. To learn more please visit http://www.schoolhack.io