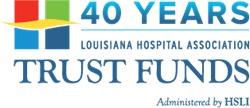 We are thrilled to welcome the diverse skillset and medical experience that these three will bring to the boardroom. - Cindy Dolan, President and CEO of LHA Trust Funds
Baton Rouge, Louisiana (PRWEB) April 24, 2017
LHA Trust Funds recently welcomed Dr. Juan Perez-Ruiz, Randy Rossi, and Dr. Michael R. Williams as new members of the board of trustees. The new additions bring over 50 years of collective healthcare experience to the LHA Trust Funds' board.
"We are thrilled to welcome the diverse skill set and medical experience that these three will bring to the boardroom." – Cindy Dolan, President and CEO of LHA Trust Funds
Dr. Juan Perez-Ruiz earned his medical degree from San Juan Bautista School of Medicine in Caguas, Puerto Rico, completing his residency in Internal Medicine at the University Medical Center in Lafayette. Dr. Perez-Ruiz joins the LHA Trust Funds' board with practice experience from several regional medical facilities, including Lake Area Medical Center in Lake Charles and Veterans Administration Hospital in Alexandria and served as a member of the Louisiana State, Lafayette Parish and Puerto Rico Medical Societies. He currently works for Lafayette General Medical Center as an Internal Medicine Physician.
Randy Rossi has a diverse healthcare marketing and operations background, serving as the Division President of TYCO Healthcare until 2004. From 2005 to 2008, Mr. Rossi served on the Board of Directors of Bovie Medical, soon after earning his Property & Casualty and Life & Health licenses in Commercial Insurance in 2011. He joined GastroIntestinal Specialists as their administrator in 2013, and currently leads the organization's operational, financial and business development initiatives.
Dr. Michael R. Williams joins the LHA Trust Funds board of trustees with practice experience in both civilian and military medical service. After earning his medical degree from the University of Arkansas, Dr. Williams completed his residency in Emergency Medicine at Charity Hospital in New Orleans and has worked in a variety of capacities across the country, serving as SWAT Team physician, attending emergency physician, and chief of emergency medical services. Currently, Dr. Williams works as an Emergency Department Physician at Willis Knighton Hospital in Bossier and serves as the Medical Director for the WK Bossier Emergency Department.
The LHA Trust Funds Board of Trustees is a governing body made up of 13 healthcare industry professionals who derive from a variety of health administration backgrounds. The board provides strategic oversight to ensure the best coverage and service to its members.
###
About LHA Trust Funds: For forty years, hospitals, healthcare facilities and physician practices have relied on the specialized programs and services provided by the Malpractice Trust Fund, Workers' Compensation Fund and Physicians' Trust. To learn more about the Trust Funds, please visit at http://www.lhatrustfunds.com