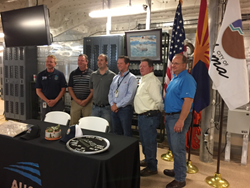 MOBILE, Ala. (PRWEB) April 24, 2017
Austal USA met with Navy officials to finalize the documentation required to make the delivery of USNS Yuma (EPF 8) official. Documents were signed during a small event held onboard the ship here yesterday.
The EPF program provides the Navy with a high-speed intra-theater transport capability. The 338-foot long Yuma is an aluminum catamaran capable of transporting 600 tons, 1,200 nautical miles at an average speed of 35 knots, and is designed to operate in austere ports and waterways, providing added flexibility to U.S. warfighters worldwide. The ship's flight deck can also support flight operations for a wide variety of aircraft, including a CH-53 Super Stallion.
"It's so exciting to see YUMA join the fleet; an incredible ship built by incredible people," Austal USA President Craig Perciavalle said. "What's even more exciting is seeing how our U.S. Navy is taking these great platforms and expanding their mission sets to support a wide variety of operational needs - demonstrating their value and versatility to our forward deployed Naval forces across the globe."
Today's delivery marks the eighth EPF ship delivered to the Navy as part of a contract for 12 ships worth over $1.9 billion.
Upon delivery of USNS Yuma, three additional Spearhead-class EPFs are under construction at Austal's Mobile, Ala. shipyard. City of Bismarck (EPF 9) is being erected in final assembly and modules for Burlington (EPF 10) and Puerto Rico (EPF 11) are under construction in Austal's module manufacturing facility.
In addition to the EPF program, Austal is also under contract to build Independence-variant Littoral Combat Ships (LCS) for the U.S. Navy. Five LCS have been delivered while an additional six are in various stages of construction.