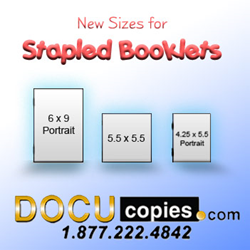 If we know we do something well, we're asking ourselves, 'How can we do it better?'
HUDSON, WISCONSIN (PRWEB) April 28, 2017
DocuCopies.com adds stapled booklet sizes, adding greater versatility to a popular printing service.
Saddle-stitched booklets can be ordered with 5.5" square, 6"x9" and 4.25x5.5" finished sizes.
The online printing company DocuCopies.com owe much of their success to printing stapled booklets at incredibly competitive prices, especially for color printing. Saddle-stitched booklets are incredibly popular due to their affordability and wide range of uses -- from daily organizers to professional magazines and everything between.
This week DocuCopies happily announce the arrival of three new finished sizes for saddle-stitched booklets, expanding the usefulness and versatility of one of their most popular items.

4.25"x5.5" - This is a 1/4-scale version of a regular letter-sized sheet. Great for pocket-size booklets, journals, gifts and more.
6"x9" - Slightly larger than a half sheet, these are popular for handbooks, event programs, product guides, children's books, etc.
5.5"x5.5" (square booklets) - Product catalogs, magazines, training manuals, photo books and countless other uses.
"We're constantly adding to our product lines, increasing finishing capabilities, and upgrading equipment throughout the year," says Jeff Corbo, the company's vice president and marketing director. "If we know we do something well, we're asking ourselves, 'How can we do it better?' And that's part of what drives innovation."
For more information on cheap color printing, stapled booklets or any of their color printing services, or to get an instant price quote, visit DocuCopies.com online.