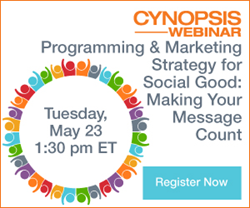 New York, NY (PRWEB) April 25, 2017
It's crucial for community-minded companies to produce social good content, aligning with issues that are in sync with their network/brand values. The newest Cynopsis webinar, Programming & Marketing Strategy for Social Good: Making Your Message Count, on Tuesday, May 23, will address how to create inspiring, shareable content, and find advertising partners to share the company's mission.
Cynopsis Editor Lynn Leahey, will host the May 23 webinar along with the following speakers: Shelly Diamond, Chief Client Officer for Young & Rubicam; Belle Frank, Chief Strategy Officer for Young & Rubicam; and Brynne Dunn Jones, Senior Manager of Corporate Social Responsibility for AT&T.
During the interactive webinar, attendees will learn:

The research needed to find a cause your audience cares about that takes into account business' values and more
Strategies for messaging that's authentic and transparent
The most effective ways to integrate a cause into programming, such as combining a cause with a request for a small personal action
The best social media platforms to amplify messages, in order to get your audience to "own" their contribution to the cause
In addition, the session will allow for real time Q&A's to ensure specific questions are answered. Register today for the Cynopsis webinar "Programming & Marketing Strategy for Social Good: Making Your Message Count."
All webinar attendees will receive full access to speaker presentations for 1 year. Webinar tuition is based on location, not number of participants, so each registration site can have multiple participants for one low price. Questions? Contact Trish Pihonak at trish(at)cynopsis.com.
About Cynopsis Media:
Cynopsis is what the TV industry reads first every day. The Cynopsis family of products includes the media industry's most-read daily, Cynopsis, plus sister dailies Cynopsis Digital and Cynopsis Sports; weekly eSports, the Cynopsis Jobs board and special reports. Serving TV, agency and brand professionals, Cynopsis Media produces conferences, webinars, and awards programs that are second to none. Find out more at cynopsis.com.
###