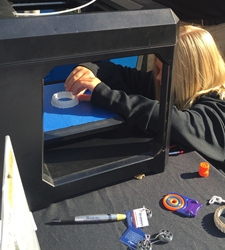 "Even at a young age, touching and seeing your design is very impactful to learning about design and design thinking."
(PRWEB) May 23, 2017
Technology Education is a class many of us remember taking in high school. For most adults, it included building a bridge out of toothpicks or shooting off CO2 rockets; these days kids are designing and printing their own 3D models on 3D printers- and it doesn't stop there. They're training on robotics, laser engravers, large format printers… and the list goes on. STEAM (science, technology, engineering, art, and math) Education has grown into a standard practice in middle and high schools across the country, and now the reach is extending into elementary.
"Engaging in STEAM at a younger age, will lead to more of these students staying engaged with STEAM classes," says Jesse Roitenberg, National Education Manager at Stratasys, a leader in 3D printing products. He goes on to explain, when students have access to this technology their engagement goes way up. They want to put more time and effort into their designs and in turn they're paying more attention to the lesson being taught. Roitenberg says, "Even at a young age, touching and seeing your design is very impactful to learning about design and design thinking."
So why is this important? According the U.S. Department of Education, jobs related to STEAM are expected to grow 16-62% by the year 2020, with all other occupations only growing 14%. It seems now more than ever is the time to engage our students early and often.
Groveland Elementary in Minnetonka, Minnesota, is one school in the infancy stage of STEAM technology in the classroom. Teacher Colleen Small says she could feel the excitement from her students when they were able to create and print their own work, "It was the first time ever that I had students bringing their parents in after school to look at their project." Small says she uses a number of robots, iPads, and their Stratasys Mojo 3D Printer, along with the free program Tinkercad in her classroom. She says students can use the program to create something that teaches them to use all facets of STEAM while also meeting ISTE (International Society for Technology in Education) standards.
3D printers aren't the only products recommended for young learners. According to Universal Lasers, laser printing allows students to practice problem-solving, critical thinking skills, and team building. Haldeman Homme Sales Representative and former Elementary Teacher, Larry Granec says Laser Engravers are widely used in Middle and High Schools and just beginning to filter down for elementary use. He says, "In this digital world, if you're going to teach digital graphics, do you want to just look at it on a screen? Or do you want to actually make something you can touch and share?" Granec says these tools teach all areas of STEAM. You create the artwork (ART), you measure your design and scale it to fit (MATH), you use the TECHNOLOGY to create the tangible object, the technology uses physics, combustion, light, laser, etc. (SCIENCE), the whole process of designing, building, and using the machinery is ENGINEERING, "It's a way of creating your own hands on learning."
It doesn't stop there; the items created can then be used for many other areas of education.
"The groups that are using the technology to the fullest extent are not only printing student designs," Jesse Roitenberg says, "but also print models to assist teachers in teaching. 3D printed fossils for teaching Science and History, mathematical models to showcase tough to visualize concepts, and much more."
Haldeman Homme has been helping schools educate students across the nation for more than 20 years. They are a leading source for Mechatronic training labs, products, and support in the USA. For more information on the products and services offered visit http://www.hhtechproducts.com.