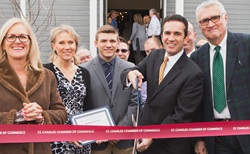 CHICAGO (PRWEB) April 26, 2017
RE/MAX All Pro marked the debut of its new downtown St. Charles location with a grand opening celebration on April 6. More than 300 guests had the opportunity to explore the brand new 5,800-square-foot office at 505 W. Main St.
St. Charles Mayor Raymond Rogina was on hand to help with the ceremonial ribbon cutting at the office, which is located in a newly completed three-story, 10,000-square-foot building with Victorian detailing that blends comfortably with the architectural character of downtown St. Charles. It was developed by MDW Properties, a company headed by RE/MAX All Pro owner Tim Binning and his wife, Laura. He explained that the move to a new location had several motivations.
"When we acquired the St. Charles office in 2009, it was located on the western edge of town. Since then, we've added brokers and staff so that the old office was too small, and geographically it wasn't an ideal location from which to serve this market area. Moving to the center of town gives us space to grow, greater visibility and a location that is more convenient for both our brokers and their clients," he explained.
The actual move took place Feb. 1 of this year, and at that time, the office, originally known as RE/MAX Great American North was renamed RE/MAX All Pro, a name it shares with its two sister offices in Bloomingdale and Sugar Grove, Ill.
"It's a bit of a cliché to say so, but this really is a state-of-the-art office," Binning continued. "Our business has become incredibly technology driven in recent years and has changed in other ways, too. Creating a new space from the ground up gave us the opportunity to design an office that can meet our needs for years to come."
The new space features contemporary furnishings and finishes and an all-private-office arrangement, with individual office spaces planned for either a single broker or for sharing by brokers who work as a team.
There are two conference rooms with floor- to ceiling windows and a Wi-Fi-enabled café area that overlooks neighboring Lincoln Park and offers a variety of drinks and snacks.
"It's intended as a space for brokers to meet casually with each other or with clients," said Binning. "We want this to be an office that both our brokers and their clients look forward to visiting."
The appeal of the new space is underscored by the fact that, since making the move two months ago, eight brokers have joined the office, Binning reports.
RE/MAX agents consistently rank among the most productive in the industry. In 2015, RE/MAX Northern Illinois agents averaged 18 transaction sides. RE/MAX has been the leader in the northern Illinois real estate market since 1989 and is continually growing. The RE/MAX Northern Illinois network, with headquarters in Elgin, Ill., consists of more than 2,250 sales associates and 103 independently owned and operated RE/MAX offices that provide a full range of residential and commercial brokerage services. Its mobile real estate app, available for download at http://www.illinoisproperty.com, provides comprehensive information about residential and commercial property for sale in the region. The northern Illinois network is part of RE/MAX, a global real estate organization with 110,000+ sales associates in 100+ nations.
####
EDITOR'S NOTE: RE/MAX® is a registered trademark. Please spell in all caps. Thank you. This release is posted at blog.illinoisproperty.com.