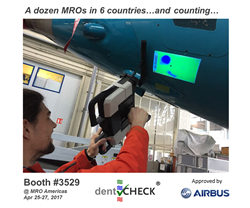 In the coming weeks, many more global aviation brands will announce their adoption of dentCHECK
Englewood, CO and Konstanz, Germany (PRWEB) April 24, 2017
A dozen MROs in 6 countries now use dentCHECK to reduce dent-mapping and reporting times by 90%. dentCHECK empowers maintenance operations with first-of-its-kind objective and consistent dent-inspection results. This improves aircraft Turn-around-time (TaT), which in turn reduces lost revenues and improves operational efficiency for airlines. dentCHECK enhances safety through an improved understanding of airframe reliability.
"dentCHECK was built from-the-ground-up to be a 1-button SRM-compliant 'go/no-go' dent-mapping tool for airlines/MROs. The aviation industry's rapid adoption of dentCHECK as their dent-mapping tool-of-choice is a welcome validation of our operator-friendly design philosophy," said Arun Chhabra, CEO, 8tree. "The global market response to dentCHECK, including adoption by the likes of SIAEC, ST Aerospace Engineering and TAP-M&E, has been extremely rewarding for us. Stay tuned in the coming weeks, as many more well-recognized global aviation brands announce their adoption of dentCHECK to improve maintenance operations."
Airbus has already approved dentCHECK for use on metallic aero-structures, with plans to certify it on additional surfaces. Additionally, other aircraft OEMs are expected to issue similar guidance very soon. This will enable more airlines to implement dentCHECK to boost their maintenance efficiency.
In addition to the scope of Airbus' TEM publication, dentCHECK at its core, is a 3D dent-mapping and blend-out tool, that delivers industry-compliant answers in seconds -- all with the click of a single button. In documented customer case-studies, dentCHECK drastically reduces inspection and reporting times by 90%. It is the world's only fully handheld-portable and completely wireless 3D scanner which delivers instant answers at the push of a single button. No programming, post-processing or surface preparation are ever required.
About 8tree
8tree makes 3D optical surface inspection tools that solve chronic problems for multiple industries. 8tree's products empower every operator – from mechanics on the floor, to engineers in the lab – with precision measurement, portability and performance. With its patented user-centric product design, instant 'go/no-go' answers and zero-learning curve, 8tree is committed to making precision 3D scanning more broadly accessible – technically and commercially.
For more information about dentCHECK, visit 8tree at Booths 3529 and 2211, at MRO Americas Apr 25-27, 2017 in Orlando, and always at http://www.8-tree.com.