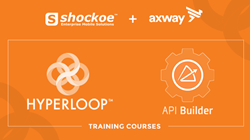 Developers are very excited about Hyperloop as they now gain full access to native APIs without having to leave JavaScript! Axway API Builder has also been expanded to add feature-rich API orchestration in a simple to use tool...
Richmond, VA (PRWEB) May 02, 2017
Richmond, VA - Shockoe, a leading disruptor in the mobile app development industry, is pleased to announce it will continue developing the training course material for tow of Axway's most innovative products - Hyperloop and Axway API Builder. As part of Axway's commitment to keep it's Appcelerator developers up-to-date with their tools, they have partnered with Shockoe to bring the redesigned Axway API Builder and newly enhanced Hyperloop to it's developers via two new training courses. These new courses will be available on Appcelerator University starting May 2nd, 2017.
What do these products allow developers to do?
Hyperloop was designed to break down barriers between Titanium native code and the iOS, Android, or Windows specific native code. Hyperloop is a compiler that has the ability to execute compiled native instructions simply using Javascript. The course will teach developers to take advantage of native innovations and solutions as soon as they're available, versus waiting for someone to write a custom module or solution.
Axway API Builder, previously known as Arrow builder, allows you to rapidly develop a solution to expose your data through an API, regardless of app client. It allows for the orchestration of multiple data sources in one easy to use visual flow. When using API Builder it will enable your teams to embrace DevOps methodologies by providing them with the ability to integrate different data sources and adapt quickly to the agile needs of the organization. Axway API Builder allows for faster innovation by allowing data sources to talk to each other regardless of where the data is, as well as an easy way to visualize data flows.
"Developers are very excited about Hyperloop as they now gain full access to native APIs without having to leave JavaScript! Axway API Builder has also been expanded to add feature-rich API orchestration in a simple to use tool. This training provides a fantastic way for developers to quickly become proficient with both of these powerful new products from Axway." - Brenton House is a Senior Mobile Architect for Shockoe with over 20 years experience in mobile, API, and web development. He is active in the Titanium community and has worked with clients across various industries, including broadcasting, advertising, retail, financial services, transportation, and publishing.
To take advantage of this training please visit http://www.shockoe.com/partners/axway or email the team at Shockoe.
About Shockoe:
Shockoe is a cross-platform mobile solutions firm that specializes in building mobile applications and integrating legacy systems. Since 2010, we've been helping clients to develop mobile strategies which result in consumer and employee-facing mobile applications that meet users' needs. We believe that technology can make business better and make that belief a reality every day with the tools we build.