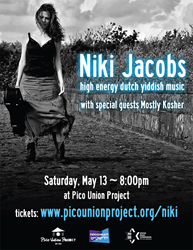 "Their music sensibility is impeccable, and their powerhouse 5-piece acoustic band delivers with infectious energy."
Los Angeles, CA (PRWEB) April 24, 2017
April 25, 2017
Media Contact:
Zach 818.760.1077
zach(at)picounionproject.org
Niki Jacobs, founder of Nikitov, and her cutting edge band Nikitov will appear at the Pico Union Project on May 13th for their only west coast stop.
For over fifteen years. Nikitov has wowed audiences around the globe with their quirky Avant garde take on Yiddish music. Inspired by her family history, Niki developed a deep love and passion for Yiddish culture and Yiddish song. Their arrangements, orchestration and instrumentation are all new, however, they are inflected with the sound of early Gypsy Jazz. In 2009 Niki began composing new Yiddish music, and shifted away from the influence of Gypsy Jazz.
Multi-faith and cultural center Pico Union Project is the perfect venue for Niki Jacobs. The PUP puts to action the principle to "love your neighbor as you want to be loved" by curating opportunities for Angelinos to get to know their neighbors through song and story, theater and art, ritual and prayer, and a deep commitment to community activism. "I committed to bringing this band out after hearing their Yiddish take on Stairway to Heaven" said PUP founder Craig Taubman. "Their music sensibility is impeccable, and their powerhouse 5-piece acoustic band delivers with infectious energy."
The concert, co-sponsored by the LA Jewish Music Commission and Yiddishkayt will open with a set by local Klezmer favorites Mostly Kosher.
Saturday, May 13th @ 7:30pm
Tickets available at http://www.picounionproject.org
Pico Union Project
1153 Valencia St.
Los Angeles, CA 90015
ABOUT PICO UNION PROJECT
Originally built by Sinai Temple in 1909, the Pico Union is the oldest synagogue building in Los Angeles. The Pico Union Project is a multi-faith cultural arts center dedicated to the Jewish principle to "love your neighbor as yourself." We elevate this teaching into practice by bringing diverse cultures together through song, story, art, food and prayer. We partner with like-minded organizations and community leaders to help reinvigorate our neighborhood in downtown Los Angeles reflecting the Jewish value to be a light to all nations. http://www.picounionproject.org