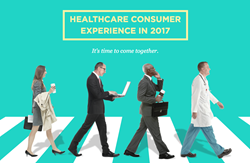 "If any provider organization is to succeed in the new healthcare economy, it must put consumers' needs first,"
Birmingham, Ala. (PRWEB) April 25, 2017
Influence Health, the healthcare industry's leading consumer experience solution provider, today announced the release of its newest whitepaper, "Healthcare Consumer Experience in 2017." The whitepaper is a practical guide for healthcare executives, marketers, clinicians and IT professionals in successfully navigating consumer experience and is available for free download by visiting: http://bit.ly/2oWjidI.
Today's empowered healthcare consumer brings high expectations and preferences about how and when they desire to engage digitally with a healthcare brand. Progressive industries like banking, retail, and hospitality have set the bar high, and consumers expect healthcare to provide the same high quality, seamless, personalized, multichannel experience that anticipates their needs and wants. Provider organizations that deliver a retail-like digital experience are building trust and loyalty that result in top- and bottom-line improvements.
Organizations that don't provide a consumer-centric experience are finding themselves dealing with difficult issues including low patient satisfaction, high readmissions, poor brand affinity and, ultimately, healthcare consumers switching healthcare organizations. According to Timetrade, every customer experience failure costs an average 65 percent revenue loss, compared to what could have been earned from that person during the following year.
In this whitepaper, Influence Health explains:

The changing landscape of healthcare, including the impact of new payment models and technologies on consumer behavior
The benefits and challenges of creating a superior digital consumer experience and how it can be used to drive brand awareness, new patient acquisition, patient engagement, and customer loyalty
How healthcare CRM, websites, social media, patient portals, and mobile strategies can be successfully used as consumer experience tools
How stakeholders across the organization can come together to build a unified vision and strategic roadmap for delivering a world-class consumer experience
"If any provider organization is to succeed in the new healthcare economy, it must put consumers' needs first," said Mike Nolte, CEO of Influence Health. "We created this guide, based on more than two decades of experience, to help leaders plan their strategies and digital investments, keeping the guiding principles of consumer experience in mind."
To download the whitepaper, visit http://bit.ly/2oWjidI.
For more information about Influence Health's entire suite of healthcare consumer experience and engagement solutions, visit InfluenceHealth.com or follow @InfluenceHlth on Twitter.
About Influence Health
Influence Health provides the healthcare industry's most comprehensive suite of healthcare consumer experience solutions. The Influence Health platform enables provider organizations to positively influence consumer decision making and health behaviors well beyond the physical care setting through personalized and interactive multi-channel engagement. Since 1996, the Birmingham, Ala. based company has helped more than 1,100 provider organizations positively influence consumer relationships in a way that is transformative to financial and quality outcomes. For more information visit InfluenceHealth.com.
###