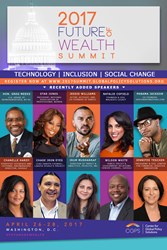 Washington, DC (PRWEB) April 25, 2017
The Center for Global Policy Solutions, a 501(c)3 think tank and action organization dedicated to driving society toward inclusion, today announced the launch of its annual 2017 Future of Wealth Summit: Technology, Inclusion and Social Change. The Summit will take place April 26–28 in Washington, D.C., at the Washington Court Hotel, 525 New Jersey Ave., NW. This year's opening reception keynote speech on April 26 will feature Jesse Williams, actor, activist and co-founder of the startup mobile app Ebroji. More information on the summit, including confirmed speakers and the agenda, can be found at http://2017summit.globalpolicysolutions.org.
Leaders in government, business, philanthropy, academia, journalism, and advocacy will converge on the nation's capital to explore structural barriers to equality, equity and opportunity in the United States. "With technology rapidly advancing amid great uncertainty, as well as great social, political and economic disruption, this is a very necessary gathering," said Dr. Maya Rockeymoore, CGPS President and CEO. "The greater focus is to advance solutions which encourage a more inclusive, equitable, and prosperous society for all people."
Due to an overwhelming response from participants and a strong social media campaign, the event is already sold out and over-capacity. Sponsors include Google and JP Morgan Chase & Co. Other speakers include: Star Jones, a noted television personality and attorney who heads the National Association of Professional Women and Professional Diversity Network; U.S. Reps. Greg Meeks (NY-5th), Eddie Bernice Johnson (TX-30th), and Elijah Cummings (MD-7th); and Panama Jackson, co-founder of the popular VerySmartBrothas.com blog.
Summit organizers anticipate more than 300 policymakers, journalists, advocates, and experts at the intersection of government, technology, economics, education, health, and human and civil rights. Summit participants will learn about the impact of the latest technological advancements in big data, machine learning, and artificial intelligence and delve into tech sector's lack of racial and gender diversity. Discussions will center on applications fostering convenient access to critical information and services without encouraging uses that reinforce biases, narrow choices, and undermine privacy.
This year's Summit will also feature an "Inclusion Revolution Innovation Competition" awarding a $10,000 prize to innovators who develop products, services, programs, or policies that help make the application of technology, big data, and/or the operation of the tech sector more inclusive and socio-economically beneficial to marginalized communities. There will be an awards luncheon honoring notables who have worked to bridge the digital divide and a special screening of the acclaimed documentary "Against All Odds: The Fight for a Black Middle Class."
###
About CGPS
Founded on the principle that a more inclusive nation is a stronger, more prosperous one, the Center for Global Policy Solutions (CGPS) is a 501(c)(3) that equips businesses and organizations with the tools to effect change, driving society toward inclusion. Drawing on our unique blend of policy and advocacy expertise, CGPS develops strategies, research, programs, policies, and communications that address disparities in health, education, and economic security by race/ethnicity, place, gender, and age.