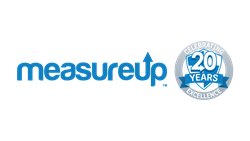 Miami, FL (PRWEB) May 18, 2017
MeasureUp, leading provider of premium practice tests and assessments for IT professionals worldwide, is celebrating its 20th anniversary. Media Interactiva acquired MeasureUp in 2014, and since then, it has launched more than 1.3 million tests focused on the training and evaluation of digital competencies for technologies by the main IT companies, such as Microsoft, VMware, Cisco and CompTIA, among others. To celebrate this special milestone, MeasureUp will offer a 20% discount on all products, on the 20th of each month.
During its two decades of existence, MeasureUp has sold over 3.5 million tests, close to half of them being sold after the acquisition by Media Interactiva, in the last three years. In 2016, the company sold around 480,000 practice tests. Acquiring MeasureUp has generated synergies in several ways, as Sam Brocal, CEO of Media Interactiva, explains "it has allowed us to reach the most outstanding technological clients and to increase our revenue." Similarly, Kevin Brice, original founder and current Chief Strategy Officer for MeasureUp, points out that "currently we operate in more than 30 countries, but our goal is to continue growing, both in market presence as well as in the value that we offer our partners and clients."
MeasureUp's practice tests are recognized for their innovative use of simulation question types, comprehensive explanations, complete coverage of exam objectives, multiple delivery modes, and in-depth reporting. Furthermore, we have the great support of those who have tried our products. More specifically, 84.6% of users would recommend MeasureUp's practice tests, 91% of users are satisfied with the explanations provided for correct and incorrect questions and 98.9% of users are satisfied with the technical accuracy of the questions. MeasureUp's goal is to "continue innovating and working hard to offer the best product possible to our clients, helping more and more professionals certify their technological skills thanks to our products", emphasizes Sam Brocal.
More information on our anniversary special: http://www.measureup.com/20anniversary.aspx
Thank you video: https://youtu.be/gLp-NPdc36w
About Media Interactiva and MeasureUp
Media Interactiva, founded in Seville in 2011, is a multinational company dedicated to educational technology and instructional design. An expert in the development of educational content through software simulations, Media Interactiva offers comprehensive services for the design, software development, localization of certifications to more than 25 languages, and quality control. The company collaborates with some of the largest certification providers in the world, such as Pearson VUE and Certiport, to help create some of the most recognized and in-demand credentials including Microsoft Office Specialist, Adobe Certified Associate, Autodesk, and QuickBooks.
Media Interactiva acquired MeasureUp in 2014. Since 1997, MeasureUp has been the leading provider of premium certification practice tests and assessments for IT professionals. The MeasureUp solution provides the necessary tools to reinforce learning and validate knowledge for students, instructors and clients of hundreds of corporations, career colleges and technical training facilities worldwide.
Throughout 2016, the company sold 480,000 practice tests and published 750 exams for Pearson in 16 different languages, exceeding 6 million dollars in sales. Media Interactiva is located in Seville, New York, Miami and Atlanta.
Contact info:
Media Inquiries:
Ilene Steinberg
Vice President Sales and Operations
MeasureUp: http://www.measureup.com
isteinberg(at)measureup(dot)com
Mailing Address:
MeasureUp
One Brickell Square
801 Brickell Avenue, Suite 900
Miami, FL 33131
678-356-5000