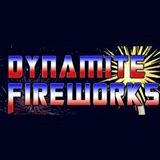 Hammond, Indiana (PRWEB) May 09, 2017
Memorial Day is simultaneously a somber day of remembrance for fallen military heroes and the unofficial start of the summer season. From Dynamite Fireworks, here are some ways to celebrate that are both patriotic and exciting.
1. Themes
Red, white, and blue are always in style for a Memorial Day party. From decorations to foods, party hosts can incorporate these colors along with some softer summer tones. Veterans and military spouses are the natural guests of honor on Memorial Day, so it is a particularly nice gesture to gather some photos of honored military members in full uniform and create a tribute wall. Potluck meals allow everyone to contribute while taking pressure off the host.
2. Invitations
Casual backyard parties are the most common for Memorial Day, and invitations should reflect that tone. It is also important to let guests know what to expect, such as swimming or any messy games. For potlucks, it is best to assign courses to avoid ending up with a dozen desserts but no appetizers.
3. Decorations
Warm, colorful, and welcoming are the order of the day. Streamers, American flags, tiki torches, and other fun accents will warm up any space. Layered red, white, and blue drinks, along with a festive punch can help make the bar area feel especially inviting.
4. Music
Since Memorial Day is a day of honoring the past, mixing in classic hits from different eras can spice up the playlist. World War II-era big band and swing are especially fun to dance to, and will keep the patriotic feel going long into the night.
5. Activities
Memorial Day is filled with companionship and food, so any activities should reflect those themes. In keeping with the goal of honoring the past, some hosts set up an old-fashioned ice cream station with lots of toppings. Watermelon seed spitting challenges, patriotic costume contests, and paper airplane competitions also continue the theme of historical family fun.
Fireworks shows play an important role in many Memorial Day gatherings. The local fireworks store is always happy to help customers design a backyard display that fits their party perfectly.
About Dynamite Fireworks
Less than 1 mile from the Indiana-Illinois state line, Dynamite Fireworks is the closest fireworks store to Chicago, and is open year-round. Visit Dynamite Fireworks at 4218 Calumet Ave, Hammond, IN. Call (219) 937-4090 for more information, or go to https://dynamitefireworks.com/.